How to choose custom neon sign quotes that speak to you?
Neon signs, beloved for their decor and signage potential since the early 20th century, are often leveraged to bestow a retro and sentimental vibe to a given space. One of the most prominent and eye-catching methods of conveying messages or slogans is through neon sign quotes. With neon tubing, distinct fonts and colors, these quotes manifest into a visually striking effect, which has garnered increasing popularity in recent times.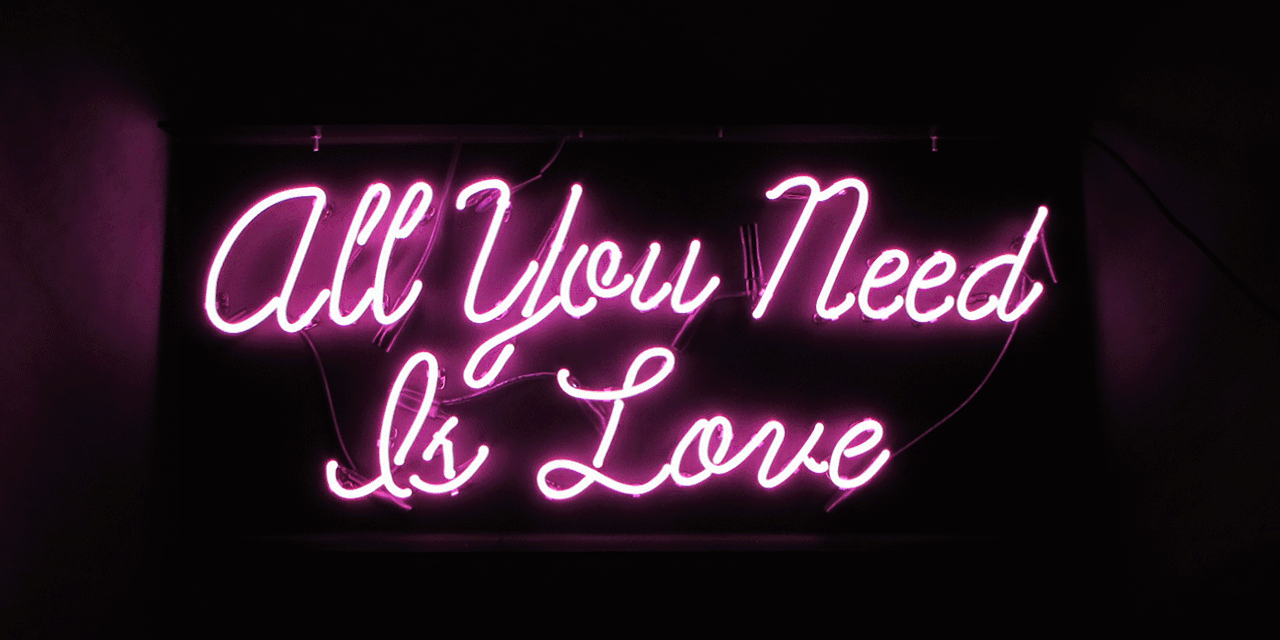 Our purpose in this article is to delve into the realm of neon sign quotes and aid you in picking the ideal quote for your desired space. From guidelines for selecting the most suitable message to innovative notions for personalizing your neon sign message, we will cover all topics. Additionally, we will furnish examples of popular neon sign messages and instruct you on how to fabricate your neon sign quotes utilizing our software.
This is chapter 6 in the neon sign library
What should I write in my neon sign?
Selecting the perfect message for your neon sign is an art that requires careful consideration of various factors. The perplexity and burstiness of the text used in crafting the message play a significant role in achieving a desirable outcome. To create a neon sign that will resonate with your personality, make a statement, or set the tone for a specific ambiance, it's vital to keep in mind the following tips:
Firstly, the setting where the neon sign will be displayed should guide your message selection. Whether it's a home, office, or commercial space, consider the decor and atmosphere and choose a message that will complement or enhance it. For instance, a neon sign with a motivational quote can inspire and uplift employees in an office, while a neon sign with a funny or cheeky saying can add personality to a home.
Secondly, your message should be concise and memorable. Neon signs are most effective when they feature a clear and straightforward message that can be easily read and understood. Avoid using long sentences or complicated words that can be difficult to comprehend.
Thirdly, choose a message that resonates with your interests, values, or beliefs. Your neon sign should reflect your personality, and therefore, it's essential to choose a message that speaks to you and represents who you are. This could be a favorite song lyric, a quote from your favorite movie, or a personal mantra.
When it comes to selecting a message for your neon sign, several popular options exist. These include messages such as "Love," "Cheers," "Good Vibes," "Eat," "Drink," "Stay Wild," "Stay Weird," "Be Happy," "Follow Your Dreams," and "You Are Beautiful." While these options are popular, don't hesitate to get creative and personalize your neon sign message. Below are some ideas to help you in personalizing your message:
Use a favorite quote from a book or movie
Incorporate your name or initials
Feature a unique design or symbol
Choose a font style that reflects your personality
Add a pop of color to make your sign stand out
Learn more: The art of illumination: Exploring the world of glass neon signs
What are slogans for neon signs?
The key to crafting a winning neon sign slogan is finding the right balance between being memorable and being succinct. A truly great slogan should encapsulate the very essence of your brand or message in just a few words, leaving a lasting impression on those who encounter it.
To give you an idea of what a truly impactful neon sign slogan looks like, consider some of these examples:
"Eat, Drink, and Be Merry"
"Life is Beautiful"
"Stay Wild"
"Live, Laugh, Love"
"Good Vibes Only"
"Follow Your Dreams"
"Be You, Do You, For You"
While these examples are certainly catchy and memorable, you may be wondering how to go about crafting a winning slogan for your own business or personal message. Here are some tips to help you get started:
Keep it short and sweet: The best neon sign slogans are typically five words or less. This makes them easy to remember and highly effective at grabbing attention.
Reflect your brand or message: Your slogan should be a clear and concise reflection of your brand or message. Consider what makes your business or personal message unique and find a way to communicate that through your slogan.
Use strong verbs and adjectives: Strong verbs and adjectives can help to make your slogan more impactful and memorable. Think carefully about the words you choose and the emotions they evoke.
Consider your audience: When crafting your slogan, it's important to think about who your target audience is and what message is most likely to resonate with them.
Learn more: Are acrylic neon signs the FUTURE of BUSINESS SIGNAGE?
What are some cool quotes?
Neon sign quotes, replete with cool and stylish content, are a stellar option for elevating any space's personality and charm. With an extensive selection of motivational, inspiring, and heartwarming quotes about love, friendship, and family, you're sure to find the perfect neon sign quote that suits your needs.
Motivational and inspiring quotes:
Lovely and heartwarming quotes about love, friendship, and family:
Ultimately, the most excellent neon sign quotes are those that speak to you and resonate with your audience, so feel free to experiment and discover what works best for you.
Neon quotes for the office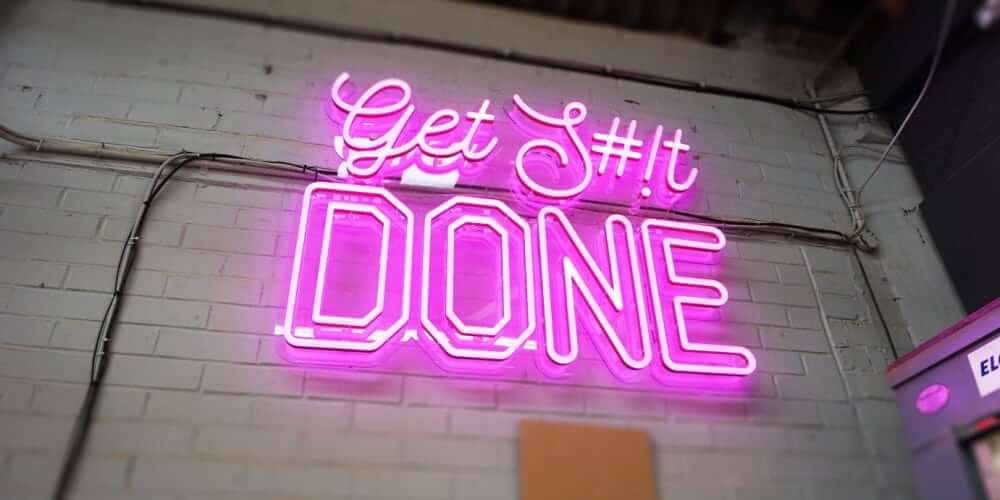 When it comes to adorning your workspace, a personalized neon sign that boasts a motivational or inspirational quotation can furnish an exceptional, distinct touch of character and imagination. So, without further ado, here are a few remarkable neon quotes that would be ideally suited for any office:
"Work hard, play hard" - This widely accepted and acclaimed quote is a perfect match for the office setting, where the balance between productivity and leisure and amusement must be maintained incessantly.
"Believe in yourself and all that you are" - This motivational quote serves as an extraordinary reminder to remain confident and unwavering in your aspirations.
"Inhale confidence, exhale doubt" - This potent and intense quote is an ideal way to sustain motivation and positivity, particularly during strenuous or arduous times.
"Think outside the box" - This ageless and classic quote is absolutely fitting for any creative or inventive workspace, emphasizing the need to always search for and explore innovative solutions and ideas.
"Stay focused and never give up" - This inspirational quote is an excellent reminder to adhere to your objectives and ambitions, even in the face of adversity and obstacles.
Bear in mind, the most pivotal aspect of selecting the appropriate quote for your office is to opt for something that resonates with you and your team.
Learn more: How to hang neon signs LIKE A PRO? The ultimate guide
Neon quotes for weddings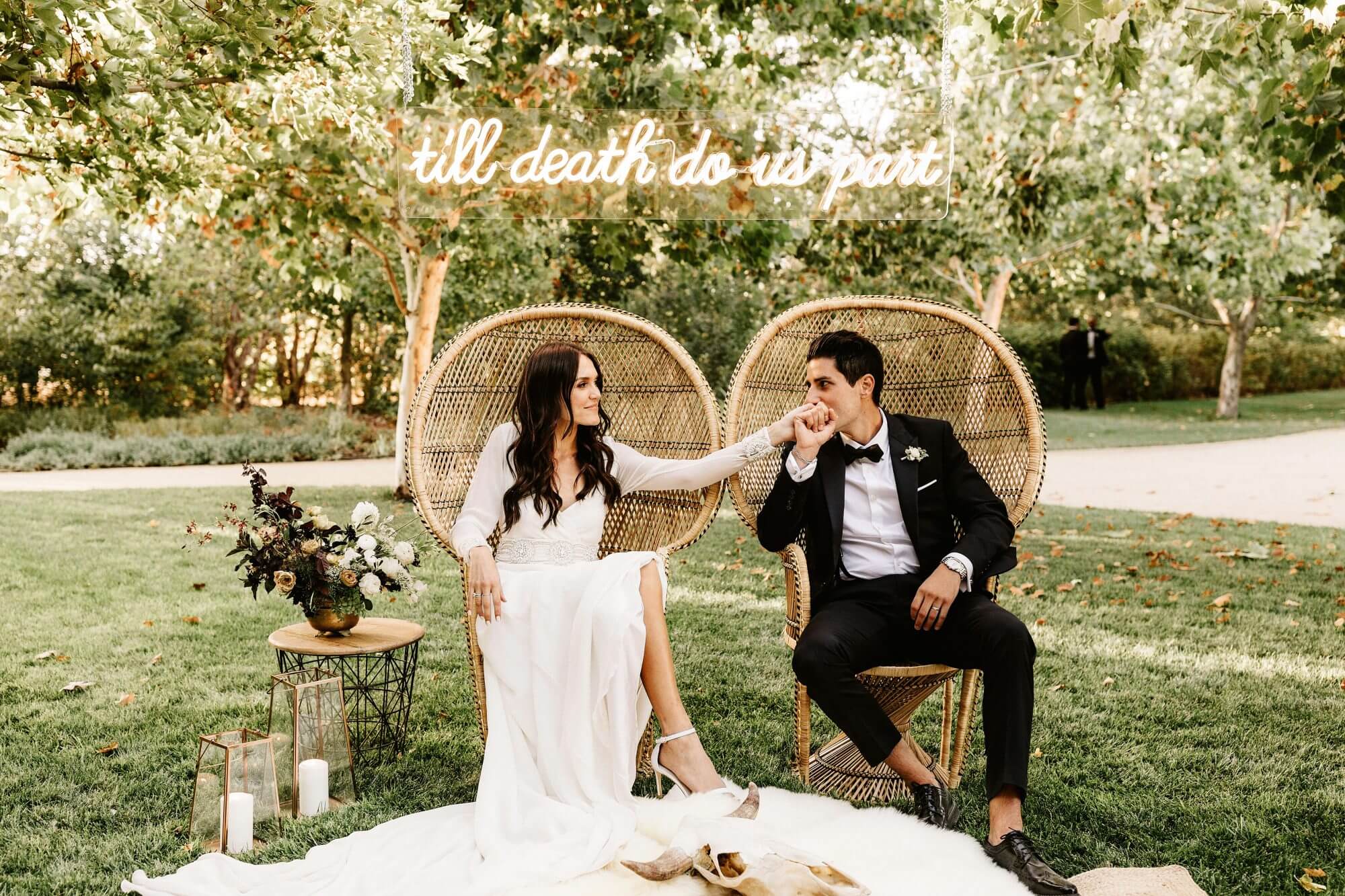 Neon signs, with their ability to infuse a distinct character to your wedding decor and imbue an air of romance and whimsy, present a myriad of opportunities to elevate your big day.
"Love is all you need" - First up, we have the ageless and iconic Beatles quote. This quote, with its timeless and sentimental undertones, makes for a perfect choice for a wedding neon sign that radiates a sense of eternal and boundless love.
"Happily ever after" - Next, we have the simple yet powerful phrase. An evergreen choice, this quote, with its versatility and adaptability, can be displayed in a plethora of styles and colors to suit your wedding decor and theme.
"Till death do us part" - For those who lean towards the traditional side, an immortal vow taken during wedding ceremonies, can be transformed into a stunning and elegant neon sign that adds a touch of timeless sophistication and romance to your wedding.
"I choose you" - Moving on to a more playful and lighthearted option, we have the quote from the popular TV show "Pokemon". This quirky and unconventional phrase, when displayed in a fun and playful font, can bring a unique and whimsical charm to your wedding decor.
"Better together" - For those who believe that two is better than one, this quote can be a perfect choice for a neon sign that celebrates the bond and connection between two individuals. Its simplicity and sweetness make it an ideal choice for a wedding that radiates warmth and affection.
"Forever and always" - Finally, we have the classic and ever-popular phrase. A go-to choice for wedding decor, this quote can be displayed in a variety of styles and colors to match your wedding theme and adds a sense of timelessness and eternity to your big day.
Neon quotes for bars
The incorporation of neon signs into bar decor is a practice that is nothing short of perfection. These signs do not just provide ambient lighting, but they are also an effective way to infuse personality and character into your bar space.
One classic and humorous choice for bar owners looking to add some levity to their space is the phrase "Bottoms Up." Its timelessness is evident in the fact that it is a perennially popular option.
Alternatively, for a more straightforward option, consider a neon sign that simply states "Cold Beer." This is a great way to let your customers know precisely what you offer, without any ambiguity.
Another timeless choice is the simple and straightforward "Cheers" which conveys a warm and inviting atmosphere to your customers. This quote is both simple and elegant, and its popularity has endured over time.
For those who desire to encourage their customers to continue imbibing and having a good time, a neon quote that says "Drink Up" is perfect. This is an effective way to ensure that your customers enjoy their stay and maximize the experience.
If you would like to set the tone for your bar with a more positive and uplifting message, consider a neon sign that reads "Good Vibes Only." This is an excellent way to welcome your customers and create a welcoming atmosphere.
For a unique and sophisticated choice, consider the Latin phrase "In Vino Veritas" which translates to "in wine, there is truth." This quote is particularly appropriate for a bar that serves wine.
To let your customers know when it is time to wrap up their night and head home, a neon sign that reads "Last Call" is a perfect choice. This is an effective way to communicate to your customers that the evening is winding down.
For a playful and humorous option, consider a neon sign that reads "Tequila Makes Me Happy." This is an excellent way to add some personality to your space and put a smile on your customers' faces.
Another clever play on words is the quote "Whiskey Business" which is an excellent choice for a bar that specializes in whiskey. This quote is sure to leave a lasting impression on your customers.
Lastly, if you want to add some personality to your wine bar, consider a playful and humorous option like "Wine Not?" This is a great way to infuse some personality into your decor while conveying your unique selling proposition.
Neon quotes for restaurants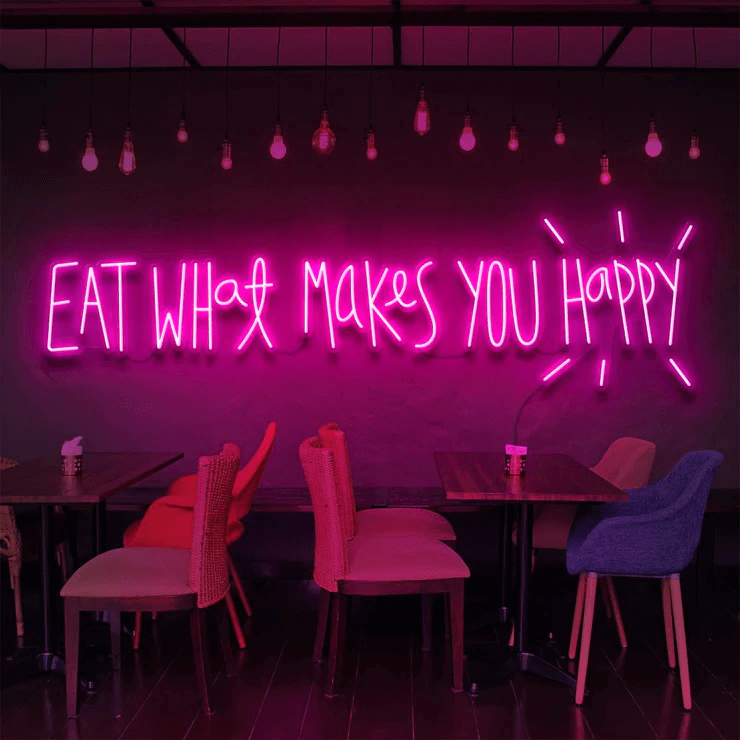 The addition of neon signs can provide an exceptional accentuation to any restaurant, bar, or café. The implementation of these vivid signs may be utilized to showcase the name of the establishment or as an avenue to express a particular message or theme. Below are a few examples of commonly utilized neon sign quotes that you may wish to contemplate when devising your own:
"Eat, drink, and be merry" - This classic and timeless saying is the ideal embodiment of any restaurant seeking to establish a warm and inviting atmosphere. Its straightforward yet potent nature serves as an effective means of informing your clientele that you are dedicated to ensuring their enjoyment throughout their stay.
"Bon Appétit" - This French expression, directly translating to "good appetite," is commonly used throughout the culinary world as a gesture of goodwill towards customers partaking in a meal. This phrase is the perfect fit for restaurants specializing in French cuisine or for those wishing to add a hint of refinement and sophistication to their overall ambiance.
"Foodie heaven" - For restaurants known for their scrumptious cuisine and top-notch service, this phrase is the perfect option for highlighting your establishment's esteemed reputation. Its playful and lighthearted nature serves as an excellent avenue for relaying to your customers that they are about to indulge in something truly exceptional.
"Come hungry, leave happy" - This quote serves as a fantastic choice for family-oriented restaurants seeking to foster an inviting environment suitable for customers of all ages. Its whimsical and relaxed tone effectively communicates that the establishment's main priority is ensuring that each and every guest enjoys a satisfactory meal, leaving with a sense of fulfillment and happiness.
When selecting a neon sign quote for your restaurant, it is imperative that you consider your establishment's brand identity and the overall ambiance you seek to convey. Whether you choose to utilize a classic phrase or devise a unique message of your own, rest assured that a well-executed neon sign will add a touch of personality and allure to your restaurant's aesthetic.
Neon quotes for cafés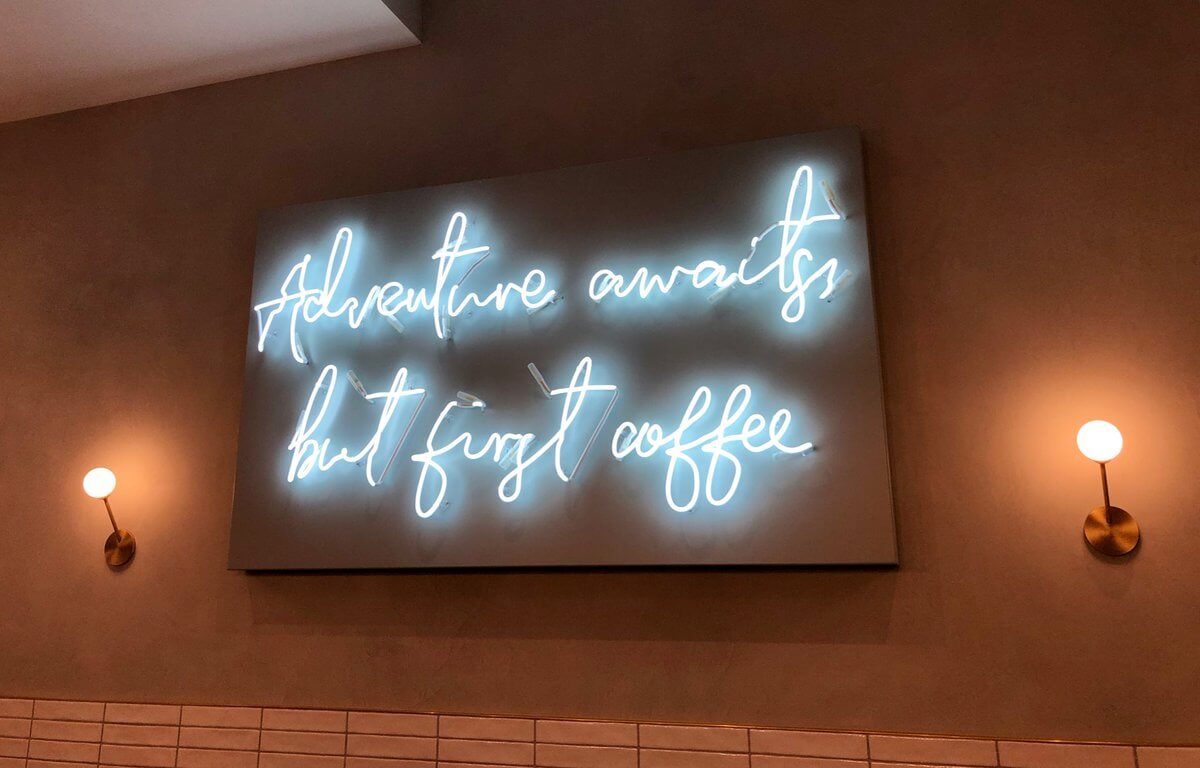 Neon signs can be the pièce de résistance for café interiors, adding a touch of vintage allure and atmosphere. Allow me to offer some inspiration for neon sign quotes that would be a harmonious fit in a café setting:
"Coffee is always a good idea" - This phrase is a flawless fit for coffee shops. It's a simple, snappy slogan that spotlights the significance of coffee.
"Life is too short for bad coffee" - This statement is a splendid selection for cafés that take their coffee very seriously. It stresses the importance of serving high-quality coffee.
"Stay a while, drink a latte" - This quote is a cordial invite for patrons to sit back and unwind in the cozy ambiance of the café while savoring their coffee.
"But first, coffee" - This well-known expression is ideal for cafés that want to highlight the importance of coffee as a morning routine.
"All you need is love and a good cup of coffee" - This quote is a superb option for cafés that want to cultivate a welcoming and friendly vibe, emphasizing the significance of love, community, and of course, excellent coffee.
"Espresso yourself" - This pun-tastic quote is perfect for cafes that serve espresso, and it's a playful way to encourage customers to express themselves while indulging in their coffee.
"Coffee and friends make the perfect blend" - This quote emphasizes the social facet of coffee, and it's excellent for cafés that want to create an affable and hospitable environment.
"Sip happens" - This whimsical and lighthearted quote is perfect for cafés that want to create a relaxed and enjoyable atmosphere.
"Life begins after coffee" - This quote is a quintessential fit for cafés that want to stress the importance of coffee in starting the day off on the right foot.
No matter which quote you choose, a neon sign can make an excellent addition to your café's décor, crafting a welcoming and warm atmosphere for your customers to revel in.
Learn more: Looking for unique decor? Try these 30+ NEON SIGN IDEAS!
Neon quotes for bedrooms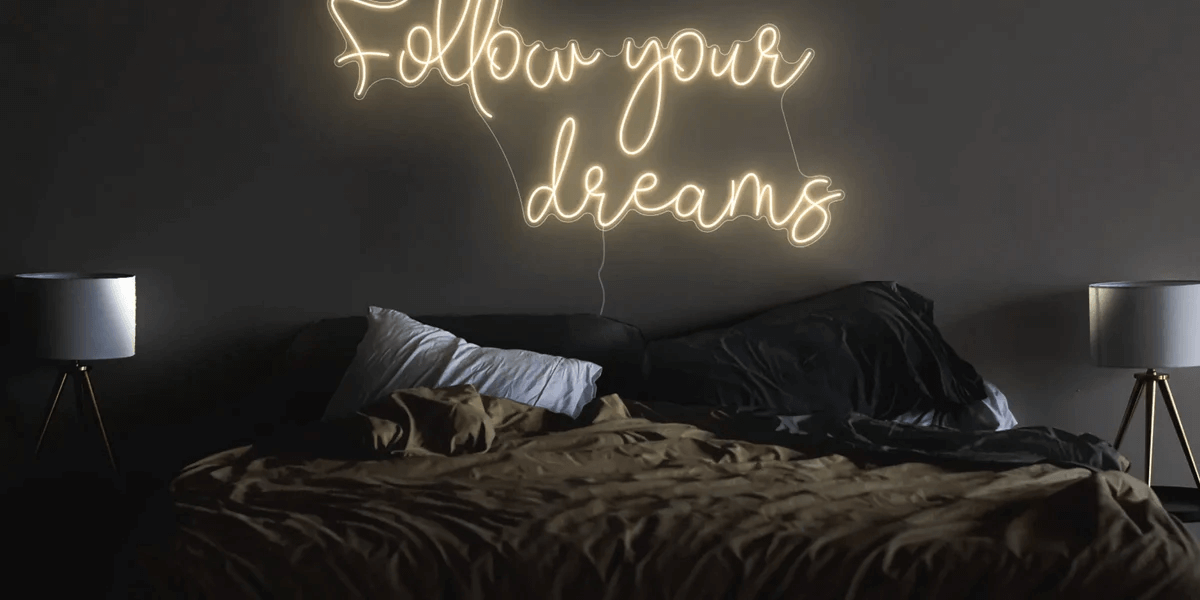 When it comes to bedroom decor, neon signs can be a creative and personalized addition. However, not all neon sign quotes are created equal. To truly add personality and ambiance to your space, it's important to choose a quote that resonates with you.
One important factor to consider is the mood or feeling you want to create in your bedroom. Are you looking to create a cozy and comforting vibe, or do you want to inspire yourself every day with motivational quotes? Maybe you want to set a relaxed and laid-back atmosphere or express your adventurous and free-spirited side.
To add perplexity and burstiness to your neon sign choices, consider mixing up the length and complexity of the quotes you choose. Here are some creative neon sign quotes to consider:
"Sweet Dreams" or "Goodnight" - These classic and simple phrases can create a cozy and comforting vibe.
"Forever" or "Love" - These romantic words can add a touch of warmth to your bedroom decor.
"Follow Your Dreams" or "Dream Big" - These motivational quotes can inspire and motivate you every day.
"Chill" or "Relax" - These laid-back and casual phrases can set a calming mood in your bedroom.
**"Adventure Awaits" **or "Stay Wild" - These adventurous and free-spirited quotes can inspire you to explore and take risks.
To further personalize your neon sign, consider choosing a unique font or color that matches your bedroom decor. A playful and colorful font can add a burst of energy to your space, while a more classic and elegant font can create a sophisticated look.
For example, a neon sign that says "Always Kiss Me Goodnight" in a romantic cursive font can add a touch of intimacy and warmth to your bedroom, while a sign that says "Work Hard, Play Hard" in a bold and modern font can inspire you to reach your goals and enjoy your downtime.
How to make your neon sign quotes real using our software
Are you neon sign store owners? Are you feeling boxed in by pre-made options, without any creative freedom to truly personalize your neon sign? Look no further than our innovative
Neon Sign Customizer software, designed to help you create your dream neon sign from scratch.
With our user-friendly software, you can customize your neon sign directly on the website. The possibilities are endless - adjust sizes, colors, shapes, and prices to fit your exact specifications.
The best part?** You'll be able to see your custom neon sign take shape in real-time, so you can tweak and adjust until it's perfect.** Gone are the days of playing the waiting game for proofs and mockups.
Don't settle for a pre-made neon sign that doesn't reflect your personality or brand. Take control of your neon sign design with our cutting-edge software. Give it a try today and see how easy it is to turn your neon sign dreams into a reality.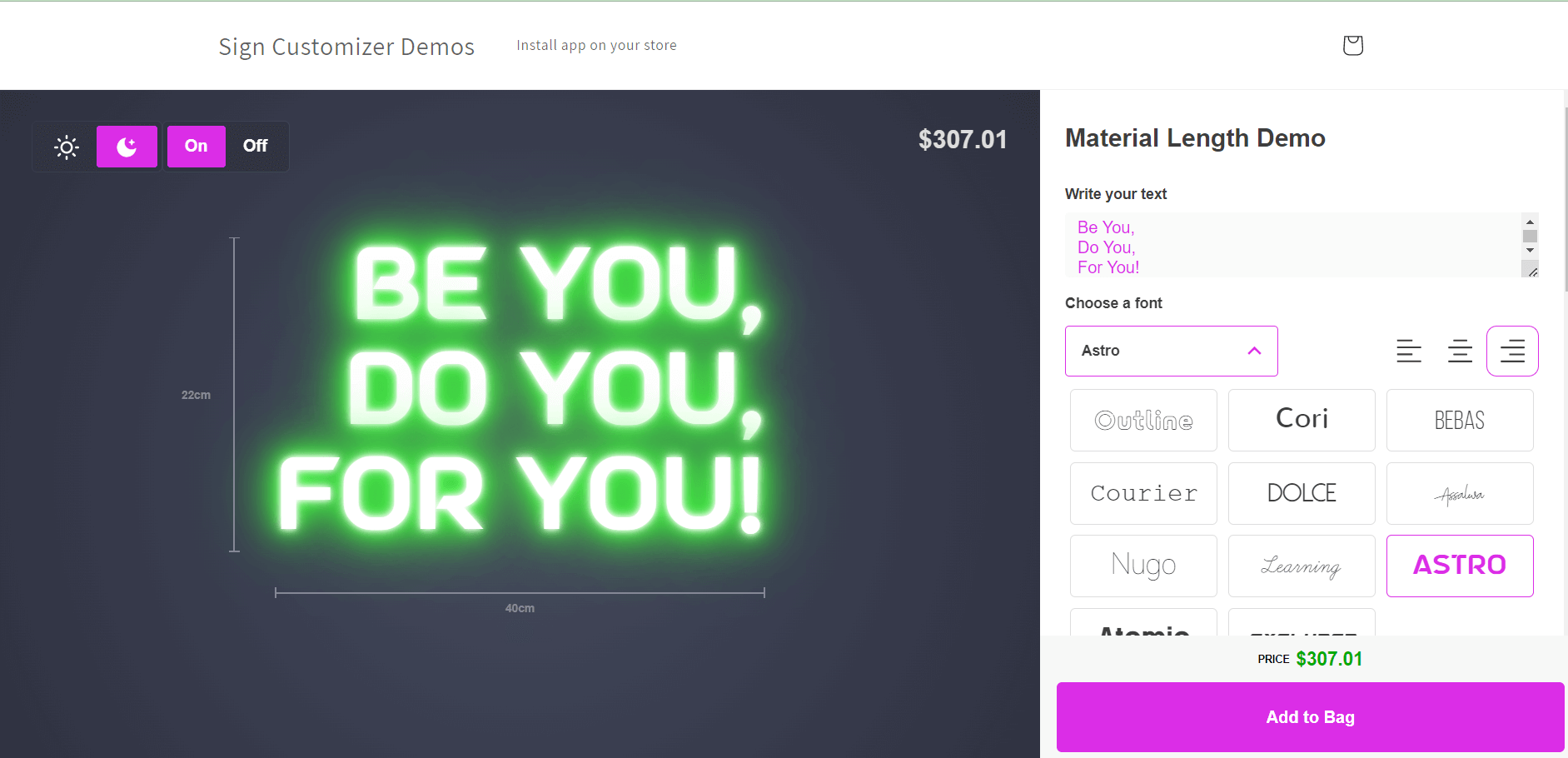 Why are neon signs cool? Why do people like neon lights?
The lasting allure of neon signs has only continued to grow as these cultural staples remain a captivating visual experience. From the glittering illumination of Las Vegas to the bustling streets of Tokyo, neon signs have an undeniable ability to seize the spotlight and entice the masses.
This unrelenting popularity is largely due to the historical significance of neon signs, which first emerged during the modernization era of the 1920s and 1930s, as cities worldwide began embracing new technologies. At the time, neon signs marked a significant breakthrough in advertising and branding methods, as they represented an innovative and audacious approach, quickly becoming a symbol of modernity and progression.
Presently, neon signs are beloved not just for their historical significance, but also for their retro and nostalgic appeal. Many people associate neon signs with a bygone era, evoking a sense of sentimentality and yearning for the past when life may have been simpler and carefree. In this manner, neon signs serve to create an ambience of reminiscence and fondness, recollecting a time when things were a tad more glamorous and thrilling.
Neon signs' coolness is further enhanced by their tremendous impact on popular culture, from the infamous "Welcome to Las Vegas" sign to the pulsating lights of Times Square, these signs have become an inextricable component of modern urban environments. Neon signs have found a place in movies, music videos, and advertisements, bringing a spark of energy and excitement to every scene.
Conclusion
As we draw to a close, it's important to acknowledge that neon sign quotes and slogans are an exceptional means to imbue your space with a sense of individuality. As of now, you should have developed an adept understanding of how to curate the most fitting neon sign quotes for your personalized requirements, whether it be for your office, bar, restaurant, café, wedding ceremony, or bedroom. Do keep in mind the mood and atmosphere that you desire to create when choosing a quote or slogan that resonates with you.