Brighten up your space with these 30+ inspiring neon sign ideas
Neon signs are the bee's knees when it comes to adding pizzazz and personality to any place. You name it: bars, eateries, bedrooms, and home offices; neon signs can change the whole vibe and show off your unique style. Whether you're a fan of old-school looks, modern minimalism, or something in-between, the possibilities for customization and creativity with neon signs are limitless.
In this blog post, we're going to go over some electrifying neon sign ideas that'll jazz up your living or working area. Whether you need inspiration for a particular room or occasion, or just want to be in the know about the latest fads and styles, we've got you covered. We'll show off some striking examples of neon signs in action, and give you some practical pointers on how to select, design, and put up your very own neon sign. So, let's get amped up and discover what neon signs can do for you!
This is chapter 5 in the neon sign library
Custom neon sign ideas for your home
In the realm of home decor, custom neon signs are experiencing a surge in popularity, and rightfully so. They provide an unparalleled and personalized means of infusing your living quarters with a distinctive flair. With their dynamic hues and flexible shapes and dimensions, neon signs enable you to showcase your character and individuality in a way that traditional decor fails to achieve.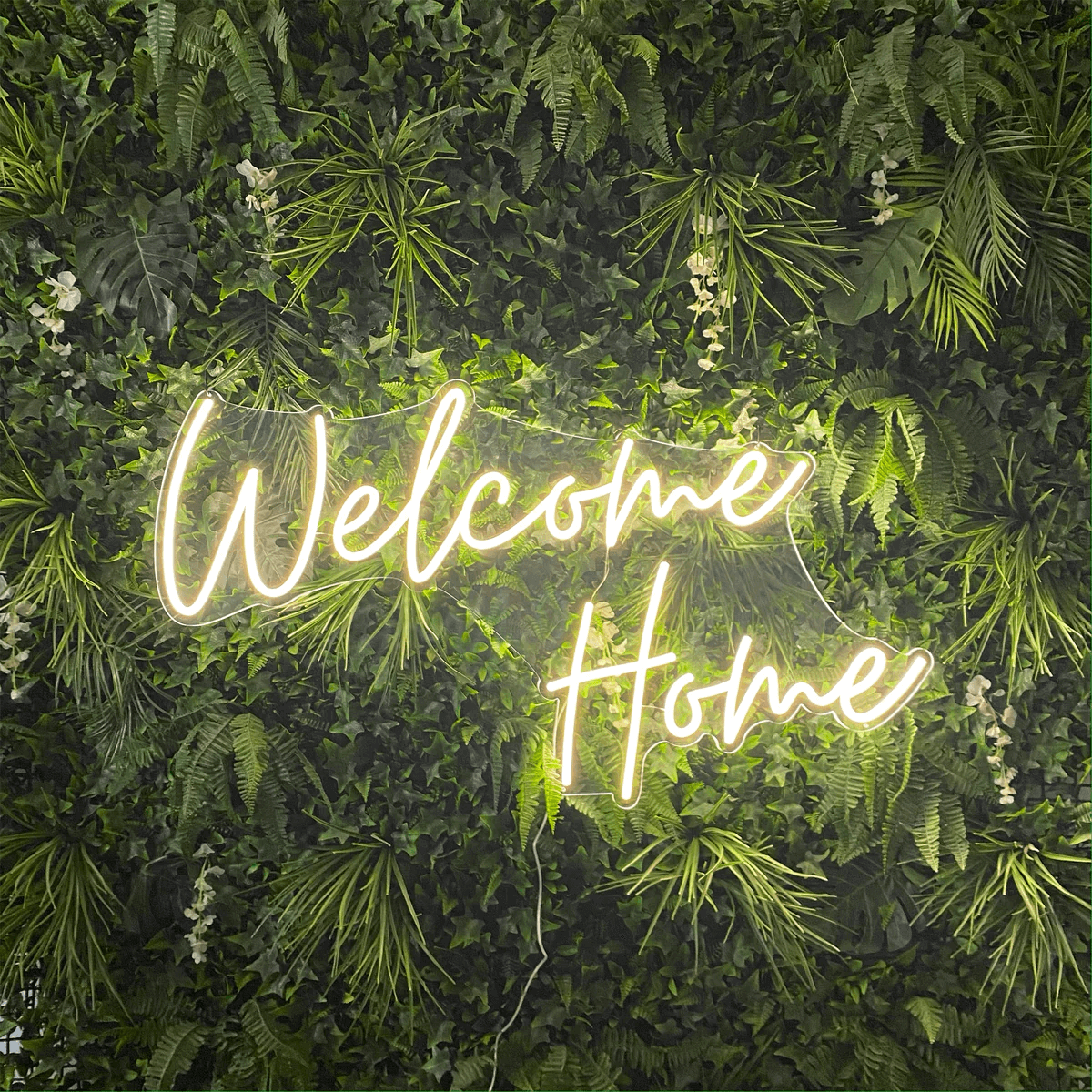 The scope of possibilities for utilizing custom neon signs in your abode is boundless. In home workspaces, they can foster an atmosphere of motivation and inspiration. Inspirational mantras, corporate logos, or even a straightforward "work hard, play hard" can have a substantial impact on your productivity.
For bedrooms, neon signs can create an ambiance that is cozy and romantic. A customized neon sign featuring the lyrics of your favorite tune, a tender message, or even just your initials can enhance the aesthetics of your bedroom decor in a singular and magnificent fashion.
One of the most prominent benefits of using neon signs in your domicile is the welcoming and homely ambience they evoke. They can lend a warm and cordial touch to any room in your house. For instance, a neon sign that reads "welcome" in your entranceway can instantly make guests feel at ease. In the living room, a custom neon sign that displays your favorite phrase or quote can inject a dash of personality into your space and make it more inviting.
Learn more: What are THE BEST NEON SIGN QUOTE IDEAS? Find Out Now!
Eye-catching business neon sign ideas
The key to making a real impact is to come up with an eye-popping neon sign design that demands attention. Sure, a customized neon sign with your biz name or logo is a classic choice, but there are loads of other creative designs that can do the trick. A neon sign in the shape of a product or service you offer can be a super effective way to showcase what you're all about.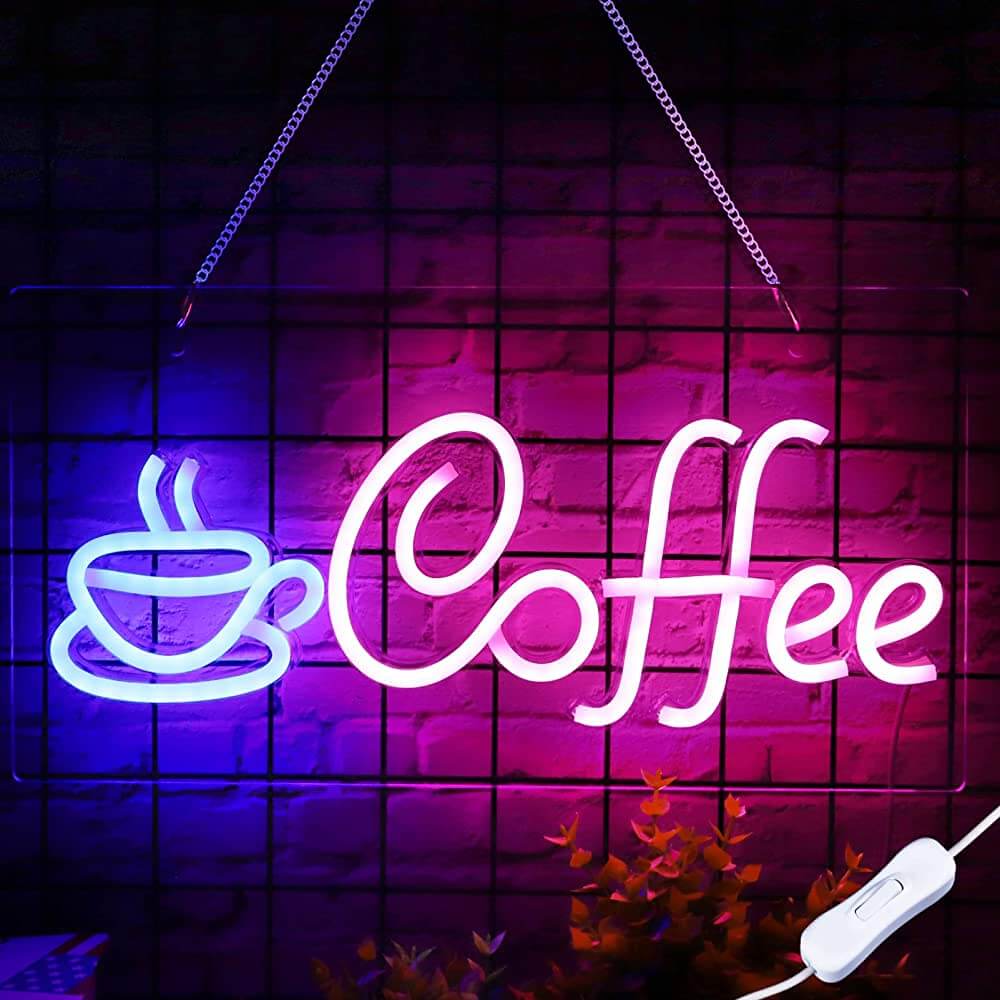 If you need a little inspiration, check out some top dogs in the biz who have used neon signs to their advantage. A coffee shop chain killed it with a simple neon sign that just featured their logo in bright colors. It's now super recognizable and iconic. A high-end clothing store took a totally different route with a neon sign in the shape of a hanger featuring their biz name. It was totally fun and unique!
Learn more: The art of illumination: Exploring the world of glass neon signs
Memorable wedding neon sign backdrop ideas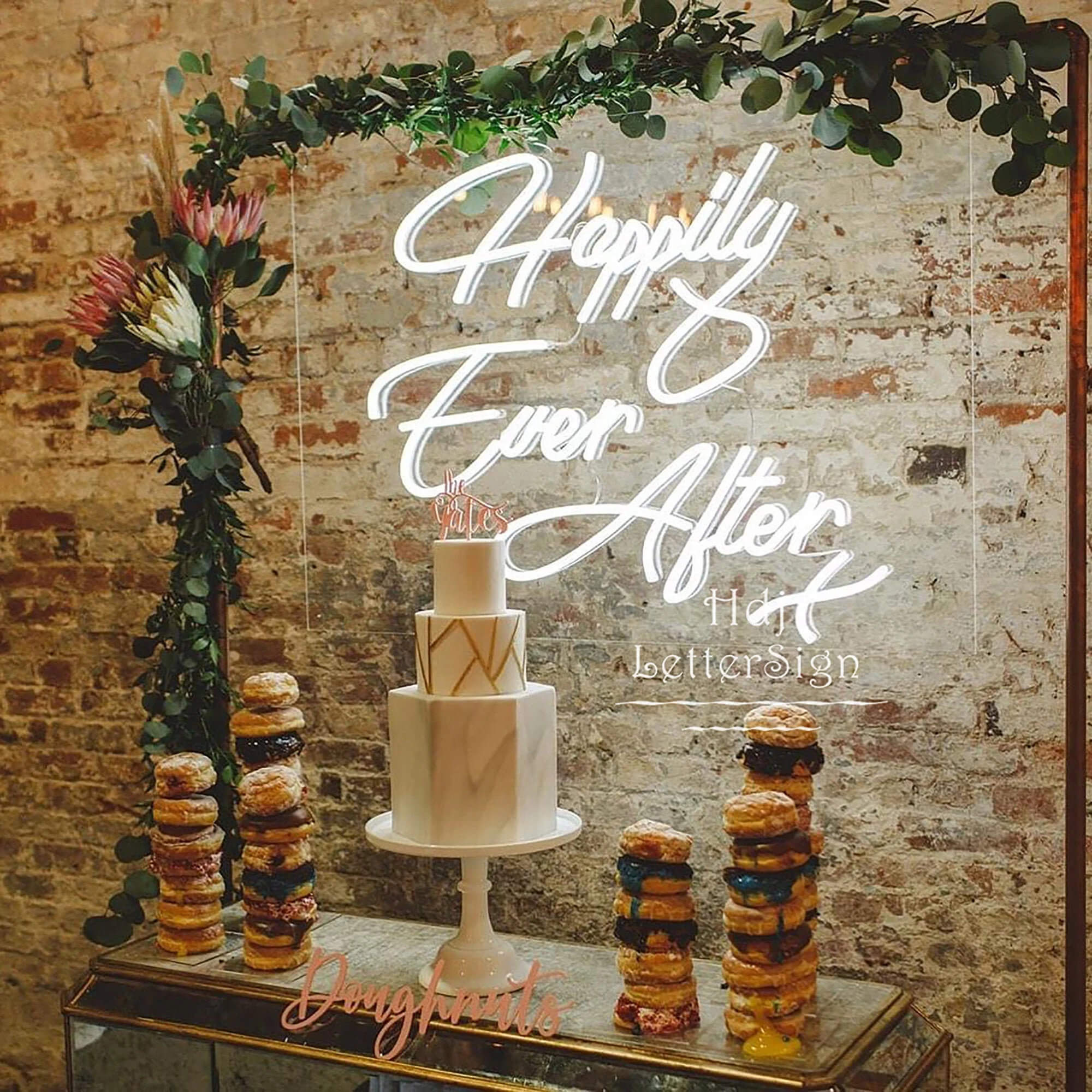 One prevalent idea is to integrate a neon sign with your names or initials, serving as a stunning centerpiece for the wedding reception or a photo booth backdrop for guests to snap pictures in front of. Other popular wedding neon sign ideas include endearing phrases such as "Love Always Wins" or "Happily Ever After," imbuing the wedding decor with a whimsical touch that'll leave a lasting impression.
It's crucial to consider the color scheme and overall theme of the event when incorporating a neon sign into your wedding decor. A white neon sign can provide a beautiful and subtle touch for a classic and elegant look, while bright and vibrant colors can make a statement and complement the wedding's theme for a more modern and bold approach.
Playful neon sign ideas for your kitchen or dining room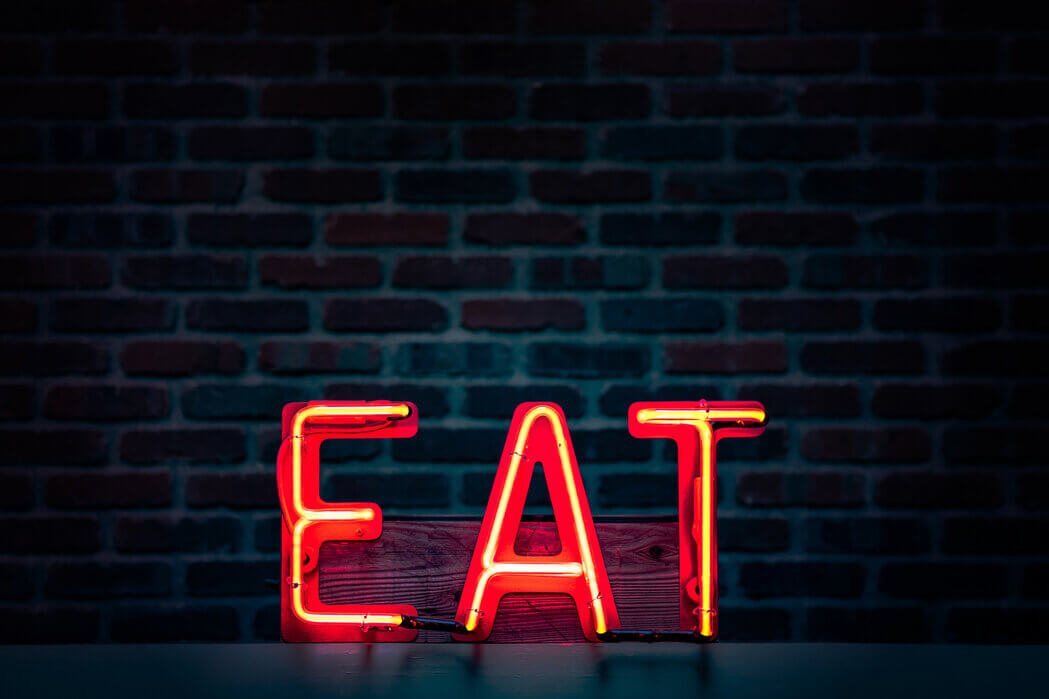 Numerous creative ideas for neon signs can infuse a playful atmosphere into your space.
You could opt for a neon sign with a food-related phrase or pun, such as "EAT" or "Let's Taco 'Bout It". Additionally, you could choose a neon sign shaped like a food item, such as a slice of pizza or a cupcake. If you're feeling extra adventurous, why not consider a neon sign shaped like utensils, such as a fork, knife, or spoon?
Placement and size are crucial factors to consider when integrating a neon sign into your existing decor and color scheme. Since neon signs can be statement pieces, it's best to choose a location where it can shine and stand out. For example, you could position a neon sign above your kitchen island or dining table to draw attention. Additionally, you should evaluate the size of the sign in proportion to the space. A larger neon sign can be fantastic as a statement piece, but a smaller one can add a subtle touch of playfulness without overwhelming the area.
Unique neon sign ideas for your gallery wall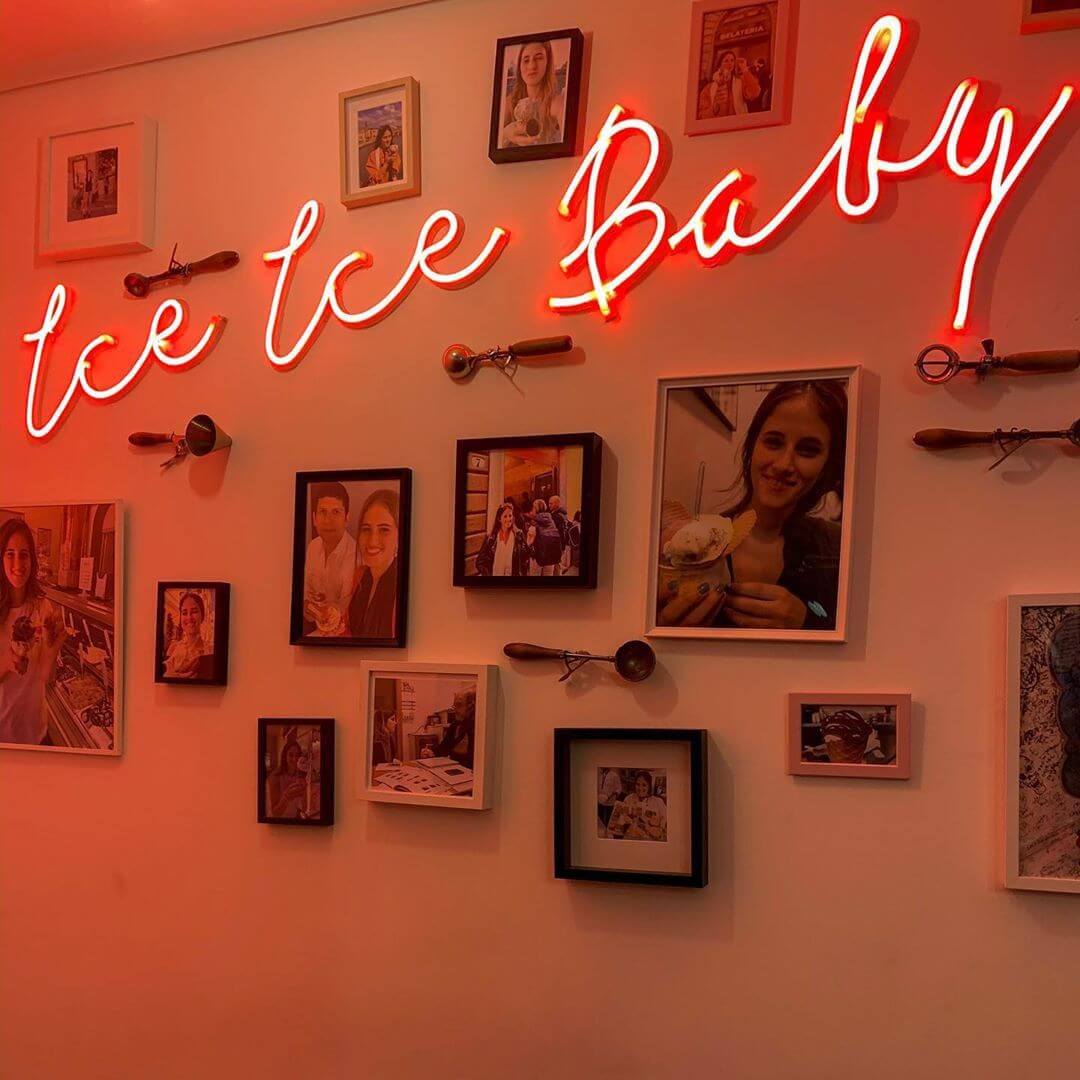 To ensure you select the right neon sign for your gallery wall, it's important to consider the overarching theme and aesthetic you desire to achieve. You can opt for a neon sign that harmonizes with the color scheme of your room, or one that introduces a contrasting element. Some popular ideas for neon signs on gallery walls include quotes, symbols, and graphics that relate to the theme of the wall.
To create a coherent and fashionable gallery wall, you should carefully contemplate the placement of the neon sign in relation to the other pieces. It can be beneficial to situate the neon sign in a central or eye-catching position to attract attention. Furthermore, framing or incorporating other wall decorations can help maintain a sense of balance surrounding the neon sign.
Before installing your neon sign onto your gallery wall, it is imperative to adhere to the manufacturer's instructions for mounting and wiring. To ensure the sign is securely fastened to the wall and that the wiring is concealed adequately for safety, these guidelines must be followed.
Learn more: The bright future of LED neon signs: Everything you need to know
Family name and special date neon sign ideas
Looking to add a sentimental and personalized touch to your home decor? Look no further than personalized neon signs that feature your family name or a special date! These stunning signs not only showcase your family's unique identity but also serve as a constant reminder of important moments and milestones.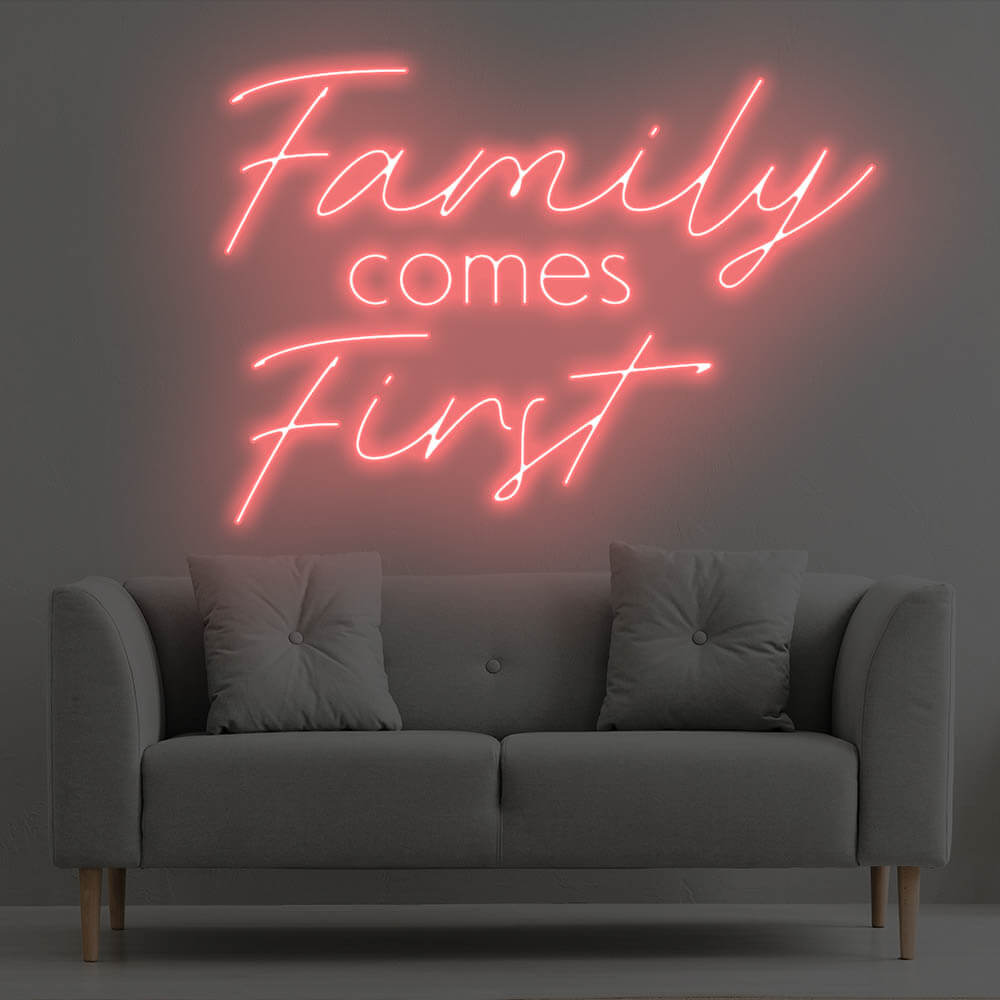 If you're in the market for creative ideas for personalized neon signs, why not consider incorporating your family name or a significant date, such as your wedding anniversary or your child's birthdate? You could also include meaningful quotes or phrases that embody your family's core values or beliefs.
When it comes to seamlessly integrating these personalized neon signs into your home decor, it's all about placement. Consider showcasing your neon sign in an area that receives a lot of foot traffic and attention, such as the living room or foyer. Alternatively, why not use it as a stunning focal point in a gallery wall or above a mantelpiece? Don't forget to take into account your color scheme and decor style when selecting the design and placement of your neon sign to ensure it complements your existing decor perfectly.
Motivational and inspiring quote neon sign ideas
Neon signs with words of encouragement and inspiration have been deemed as an effective way to stimulate your spirit and urge you to pursue your aspirations. The presence of these signs serves as a source of motivation, while simultaneously elevating the aesthetic and character of any location. When selecting a quote to be featured on your neon sign, it is essential to choose one that aligns with your values and speaks to your soul.
To assist in generating ideas, you can consider imaginative neon sign designs that showcase motivational and inspiring quotes. These neon signs vary in complexity, from being modest and straightforward to intricate and elaborate. You may opt for a minimalist sign that features a solitary word such as "believe" or "dream," or a more elaborate design containing a lengthier quote, such as "be fearless in the pursuit of what sets your soul on fire."
When deliberating on the color scheme for your motivational neon sign, it is crucial to consider the ambiance that you desire to establish within the space. For a serene and peaceful setting, you may select a subdued pastel hue like light pink or blue. On the other hand, if you want to create a more energetic and vibrant atmosphere, you may wish to explore bold and bright colors such as red, yellow, or green.
Cozy and inviting neon sign ideas for your restaurant or cafe
To cultivate an ambiance that is both alluring and welcoming, it is imperative to integrate warm-colored neon signs into the decor of any restaurant or cafe. These signs are not only capable of imparting a splash of color, but they can also convey comforting messages or showcase your gastronomic delights. Can you picture yourself strolling into a dining establishment and being greeted by a neon sign that proclaims "Freshly Brewed Coffee" or "Homemade Pie"? It's almost certain that you would feel like you've been transported to your own cozy haven.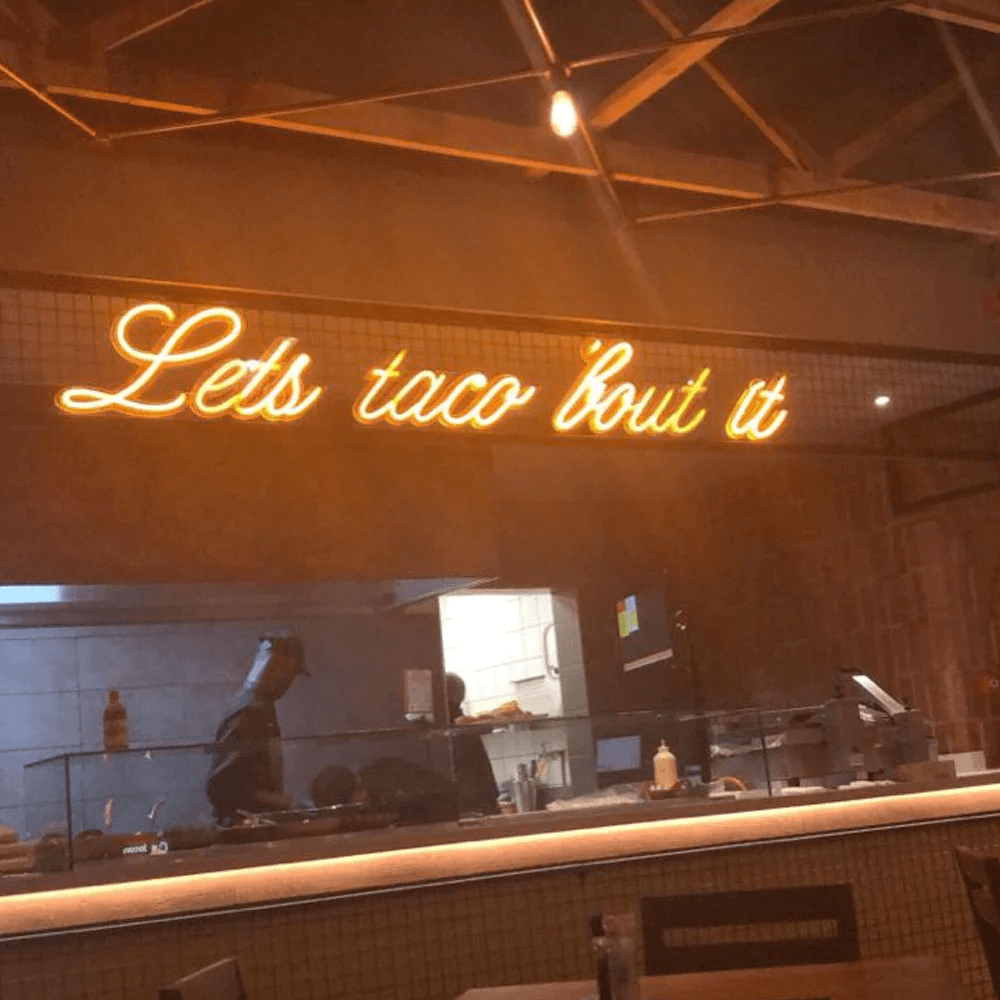 To maximize the efficacy of your neon signs, it's worth considering incorporating your brand colors and logo into the design. This not only adds a personalized touch, but it also serves to enhance brand recognition. Patrons are far more likely to remember your restaurant or cafe if they are visually exposed to your logo displayed prominently on a neon sign.
Another clever technique for utilizing neon signs in your eatery or coffee shop is to draw attention to a specific area. Suppose you have a bar area; in that case, you can employ a neon sign to act as a beacon, beckoning customers to come and quench their thirst. If you have a delectable dessert display, a neon sign highlighting your dessert selection can be a scrumptious way of tempting customers to indulge their sweet tooth. By leveraging neon signs in a strategic fashion, you can drive up sales while also creating an unforgettable dining experience for your patrons.
Learn more: Are acrylic neon signs the FUTURE of BUSINESS SIGNAGE?
Eye-catching neon sign backdrop ideas for your event photos
Neon signs are the epitome of visual pizzazz and add an unparalleled element of allure and magnetism to event photography backdrops. Regardless of whether you are hosting a lavish wedding reception, an all-night rave, or a corporate gathering of high-caliber professionals, a neon sign can elevate your event to new heights and lend it an air of distinctiveness and singularity.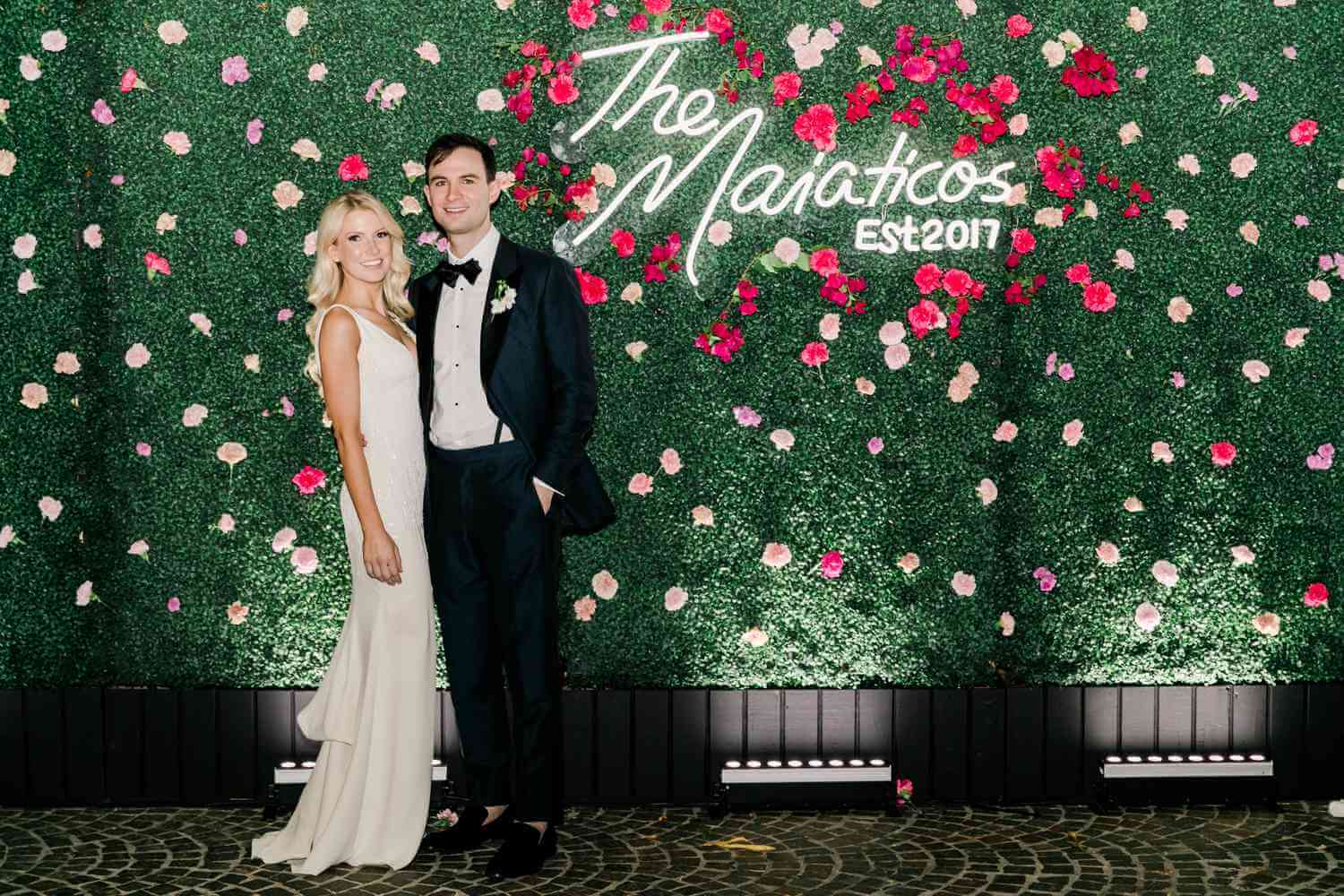 One of the most prevalent and imaginative ways of incorporating neon signs into event photography is to use them as the focal point of a photo booth backdrop. Not only do they provide a whimsical and amusing background for your guests to pose in front of, but they also serve as a memorable keepsake and a tangible embodiment of your event.
The incorporation of custom neon signs with event-specific phrases or hashtags is an ideal means of encouraging guests to share their photographs on social media platforms. Crafting a customized neon sign with the event hashtag, the couple's names for a wedding, or a corporate event motto can lend an aura of distinctiveness and exclusivity, which can act as a reminder of the event for years to come.
You can experiment with various neon sign colors and fonts to match the event theme or decor, and create a unique ambiance that is sure to enrapture and delight your guests. For instance, if you are organizing a black and white themed event, a white neon sign with black letters can be the ideal backdrop for creating a bold and striking effect. Additionally, you can use neon signs with event-related images or symbols to create a cohesive and unforgettable backdrop that is bound to linger in the minds of your guests for many years to come.
Fun and playful neon sign ideas for your bar or game room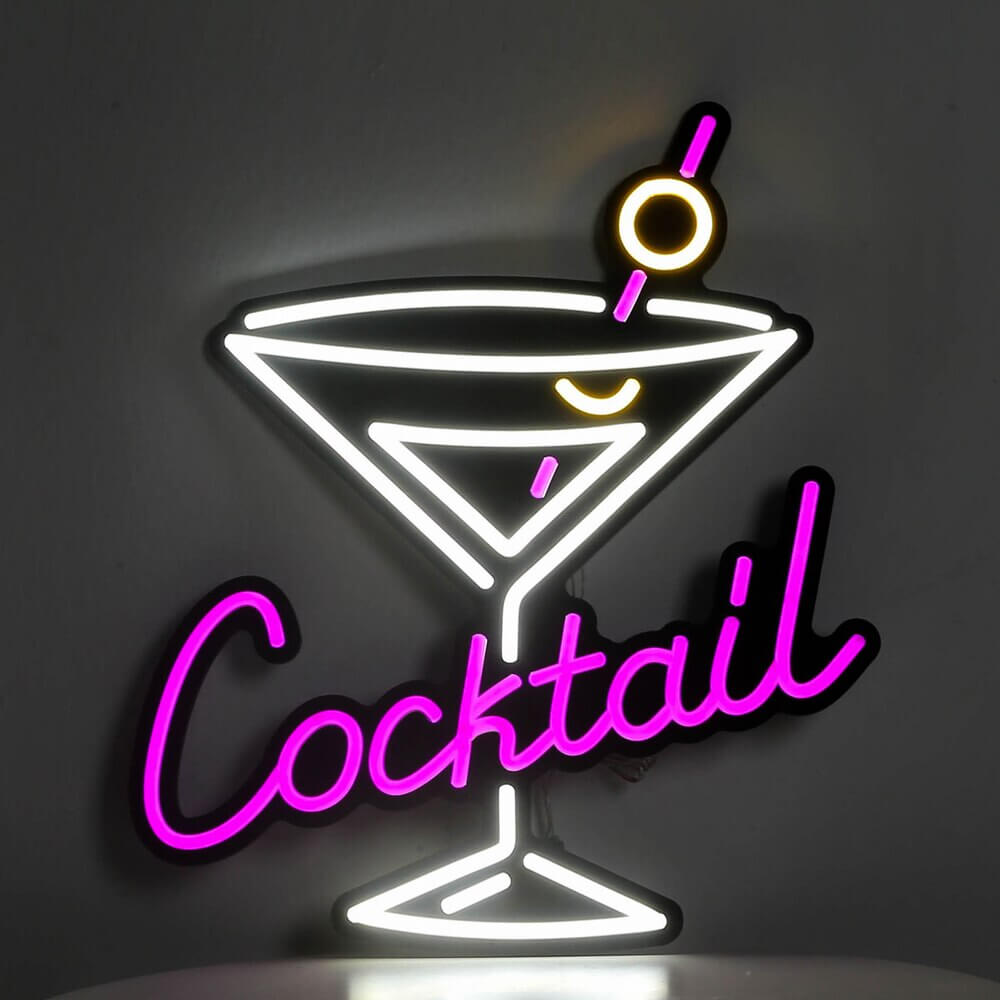 When it comes to the design of your bar or game room, the inclusion of playful and amusing neon signs can work wonders in elevating the ambiance and creating an atmosphere that will be enjoyed by guests. An approach to achieving this goal is by showcasing popular drinks or games, such as "beer pong" or "cocktails," with bright and vibrant neon hues. This not only adds a burst of color to the space, but it also serves to emphasize the activities that are available and encourages guests to partake in them.
Another technique for incorporating neon signs into your bar or game room is by placing them strategically in specific areas, such as the dartboard or pool table, in order to attract attention and increase interaction. This approach can be highly effective in creating a focal point that draws guests in and promotes socializing among them.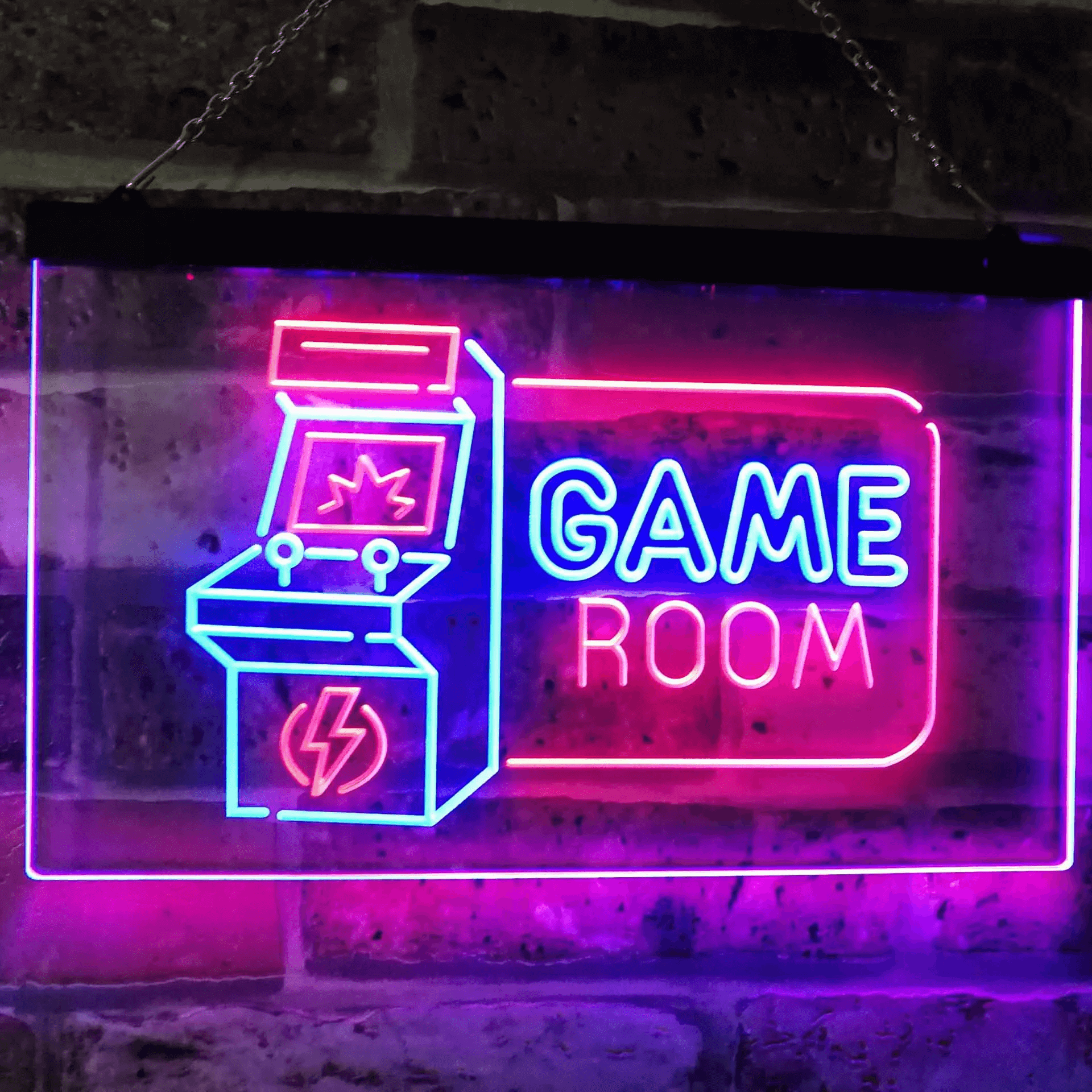 Integrating neon signs into your brand identity is also an excellent way to boost brand recognition and loyalty. You can opt to display your brand name or logo in neon lights or even create a custom neon sign that embodies your brand and establishes the mood for the overall atmosphere of the space.
Retro neon sign ideas for your event or party decor
Retro neon sign concepts for enhancing the aesthetic of your event or party decor are enduringly relevant. Adopting the trend of using retro-inspired neon signs can evoke a sentimental reminiscence of the past and create a vintage atmosphere. Incorporating neon signs in your event theme can bind the theme elements together and generate an exceptional ambiance that can set the mood.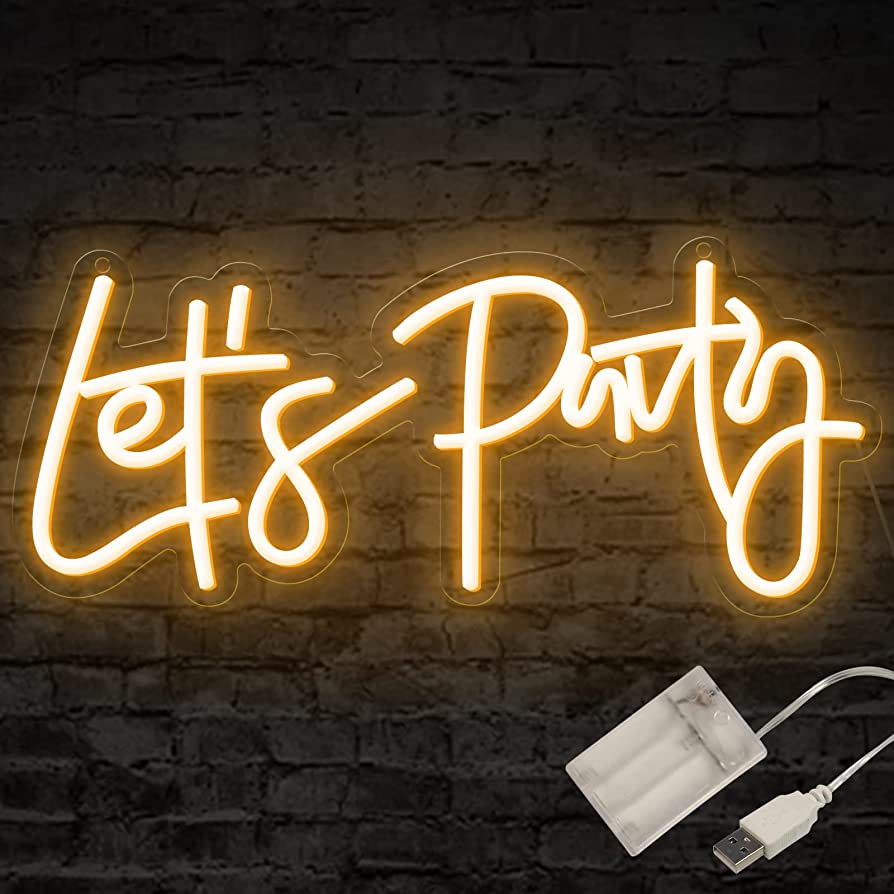 There are numerous approaches to utilizing retro neon signs creatively. Mixing and matching distinct neon sign colors and fonts can generate an exceptional and individualistic ambiance that is characteristic of the retro vibe. For instance, you can merge a vivid red font with a gentle pastel blue sign to create an alluring retro-inspired color palette. Moreover, neon signs can be incorporated into a larger retro decor theme. You can include a neon sign to complement a vintage jukebox or soda machine to enhance the overall retro vibe.
Another enjoyable way of utilizing neon signs in your event or party decor is by spelling out retro-inspired phrases or slogans, such as "Let's Rock!" or "Groovy Baby!" This can bring a nostalgic and humorous touch to your event or party and provide a fantastic photo backdrop. To create a successful retro decor theme with neon signs, it is crucial to experiment with diverse color schemes, fonts, and phrases to determine the combination that works best for you.
Eye-catching neon sign ideas for your storefront window
By emplacing neon signs in your storefront window, you can effortlessly create a visually striking display that will demand the attention of anybody strolling past, thus boosting foot traffic, and attracting potential customers.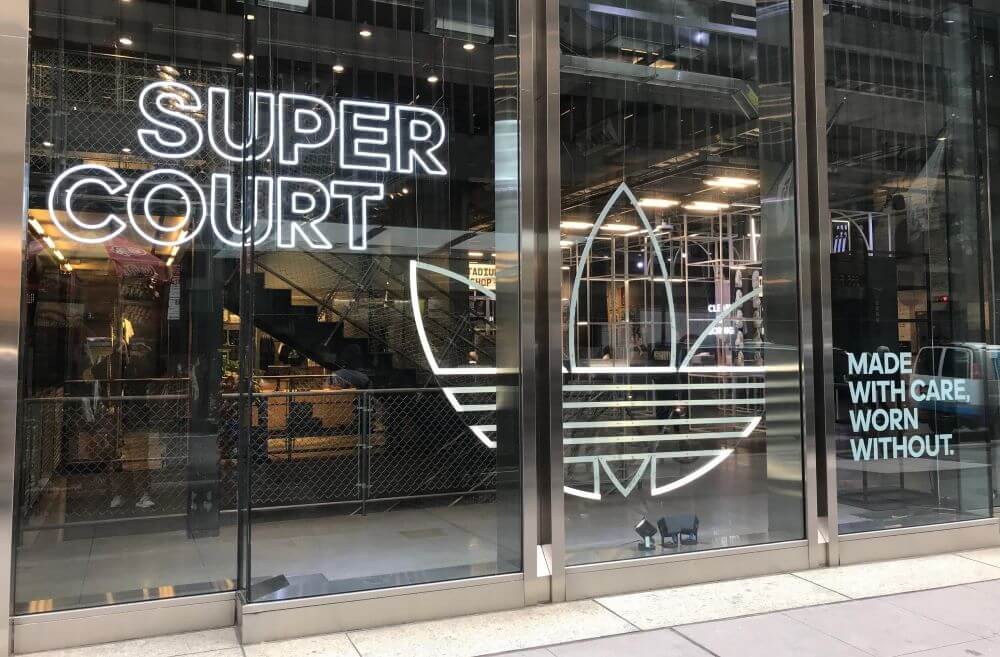 In addition, custom neon signs that incorporate your store's name or a snappy slogan can be an effective way to bolster brand recognition, and captivate prospective customers. Opt for a font that complements your store's overall aesthetic and vibe, and experiment with diverse hues to fashion an aesthetically appealing sign that captures the essence of your brand.
Do not be averse to exploring various creative neon sign concepts, as you can ideate with an array of styles and designs to ascertain the optimal fit for your storefront. With the proper neon sign, you can craft a distinct and visually captivating display that will separate your business from the competition.
Striking trade show booth neon sign ideas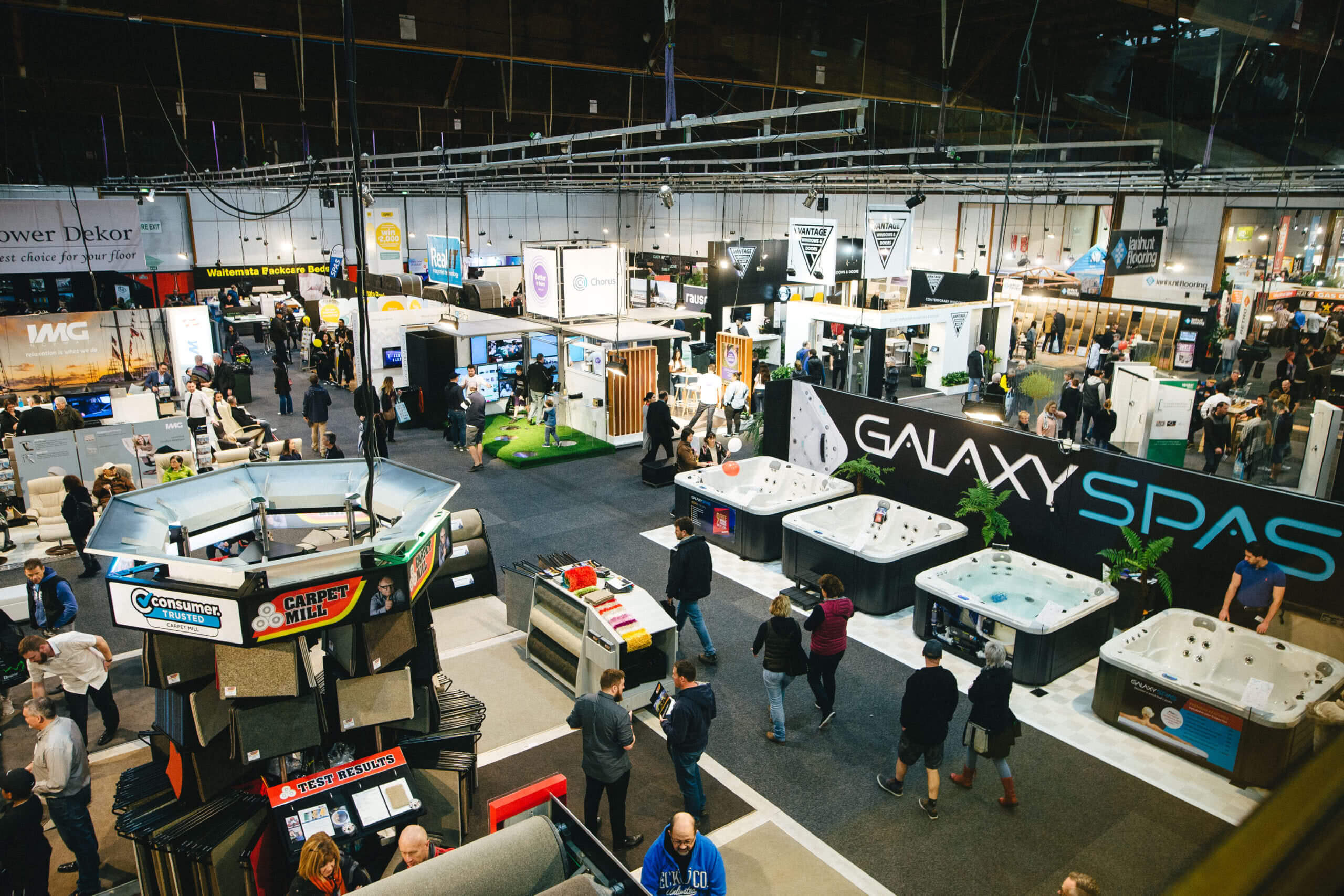 Trade shows are hyper-competitive arenas, where businesses are constantly striving to capture the attention of potential clients and customers. One way to achieve this is by incorporating striking neon signs into your trade show booth. Neon signs boast bright, bold colors that are guaranteed to grab the attendees' attention and draw them towards your booth.
Custom-made neon signs featuring your company's name or logo are a highly effective way of increasing brand recognition. These signs can be hung above your booth or utilized as a backdrop, guaranteeing that your brand is visibly displayed and easily recognizable.
Aside from promoting your brand, you can also use neon signs to emphasize specific products or services that you're showcasing at the trade show. Consider designing custom neon signs featuring product names, slogans, or other pertinent information. These signs can help draw attention to particular areas of your booth and make it easier for attendees to comprehend your offerings.
Romantic bedroom neon sign ideas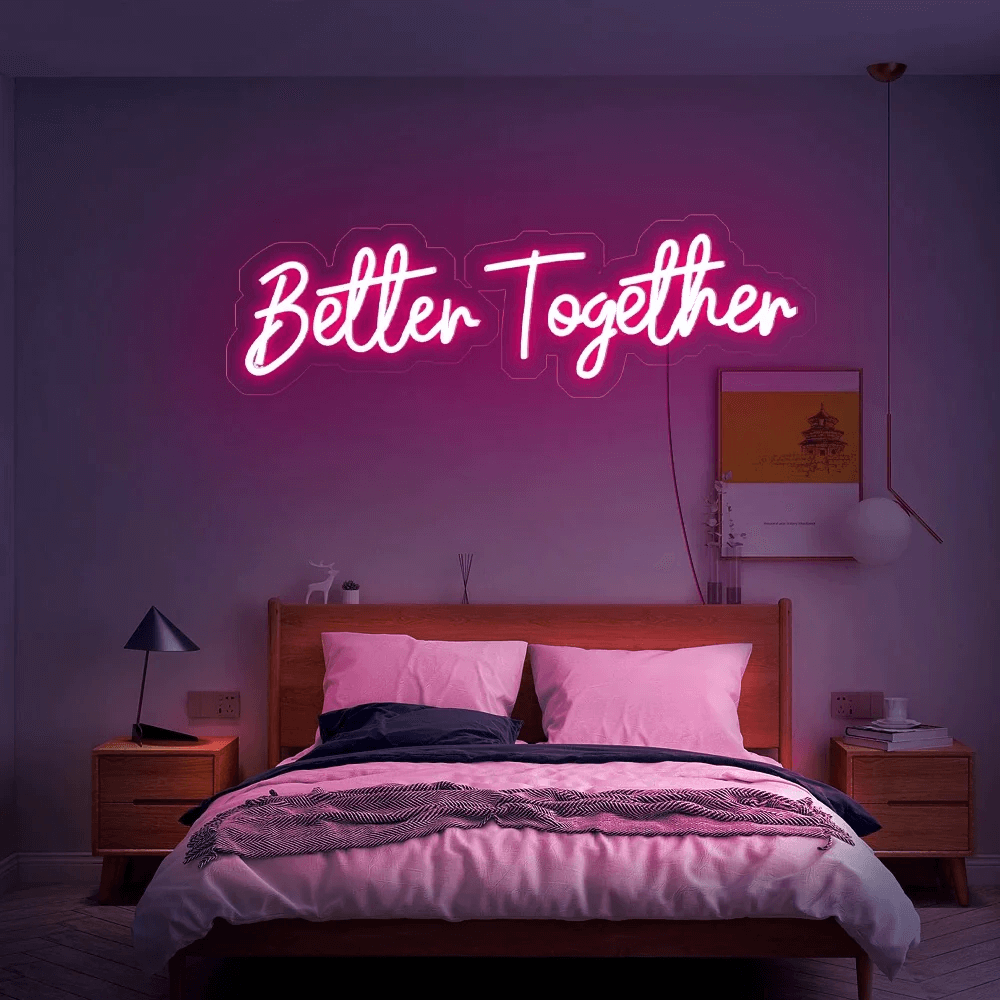 In the realm of bedroom decor, neon signs have emerged as an ideal complement, particularly for those seeking to cultivate an atmosphere that exudes coziness and intimacy. The addition of warm-colored neon signs boasting romantic phrases or symbols can create a mesmerizing effect that truly captivates. For instance, popular phrases for romantic bedroom neon signs comprise "love," "forever," "better together," and "always and forever," while symbols such as hearts, arrows, and infinity signs can imbue the space with an air of romance.
To elevate the appeal of your decor with a more personalized touch, consider procuring a custom neon sign that showcases your partner's name or a special date, as this can inject a unique and sentimental flair to your surroundings. Moreover, custom neon signs can serve as a playful and inventive means of proposing or commemorating an anniversary.
As you embark on the process of selecting a neon sign for your bedroom, take heed of your space's color scheme, since warm hues like red, pink, and orange can foster an environment that is cozy and hospitable, while cooler tones such as blue and green can evoke a more tranquil and soothing atmosphere. Lastly, don't hesitate to experiment with diverse font styles to unearth the ideal neon sign that aligns with your distinct sensibilities.
Learn more: How to hang neon signs LIKE A PRO? The ultimate guide
Playful neon sign ideas for children's parties and events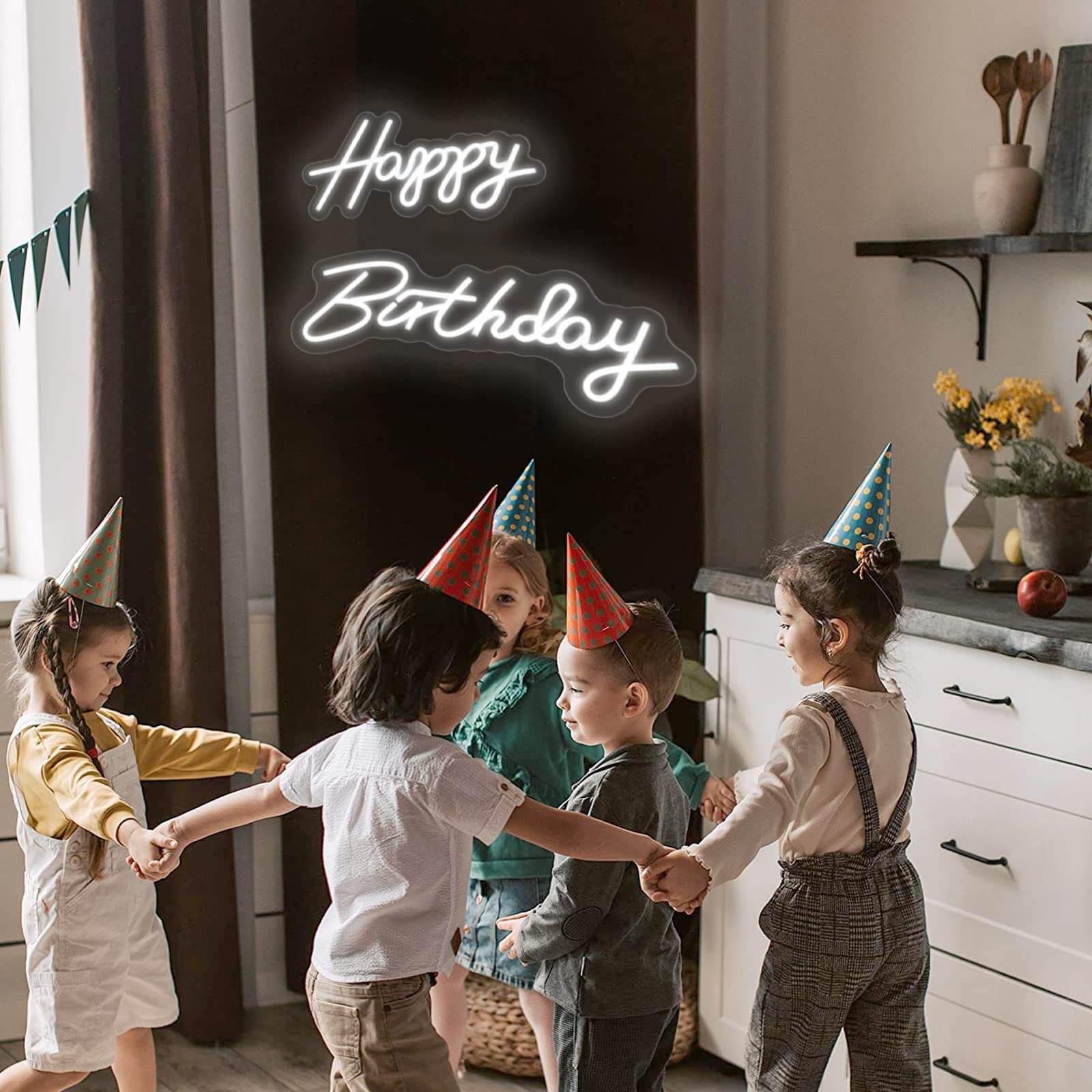 If you are planning to host a fiesta or gathering for youngsters, it would behoove thee to incorporate jocund and vibrant neon signs as a means to engender a jovial and lively ambience. With neon signs festooned with amusing messages or characters, the fête shall be imbued with an air of jubilation. For instance, neon signs featuring missives such as "Happy Birthday" or "Let's Party" shall impart an additional measure of pizzazz. Moreover, customized neon signs bearing the nomenclature or favored pastime of the natal day boy or girl may be crafted to confer upon them a unique and personalized aura.
Furthermore, employing neon signs as party favors is a singular way to make thy celebration an unforgettable affair. One may commission bespoke neon signs personalized with the appellation of each attendee or a diverting missive which they may take home as a souvenir. This not only serves as a diverting token of appreciation but also functions as a distinctive and personalized embellishment for the event.
When incorporating neon signs into a children's gala, it is imperative to consider issues of safety and placement. Ensure that all neon signs are firmly secured and out of reach of the children to avert any untoward mishaps. Additionally, see to it that the neon signs are not overly luminous or overwhelming for the children as it may be excessively stimulating for them.
Memorable stage or performance neon sign ideas
The possibilities of utilizing neon signs on stage are infinite. You can effortlessly integrate them into your set design, use them as props, or even create interactive neon installations for the audience to relish. Regardless of the mode of incorporation, neon signs are guaranteed to leave a lasting impression on your audience and make your show an unforgettable one.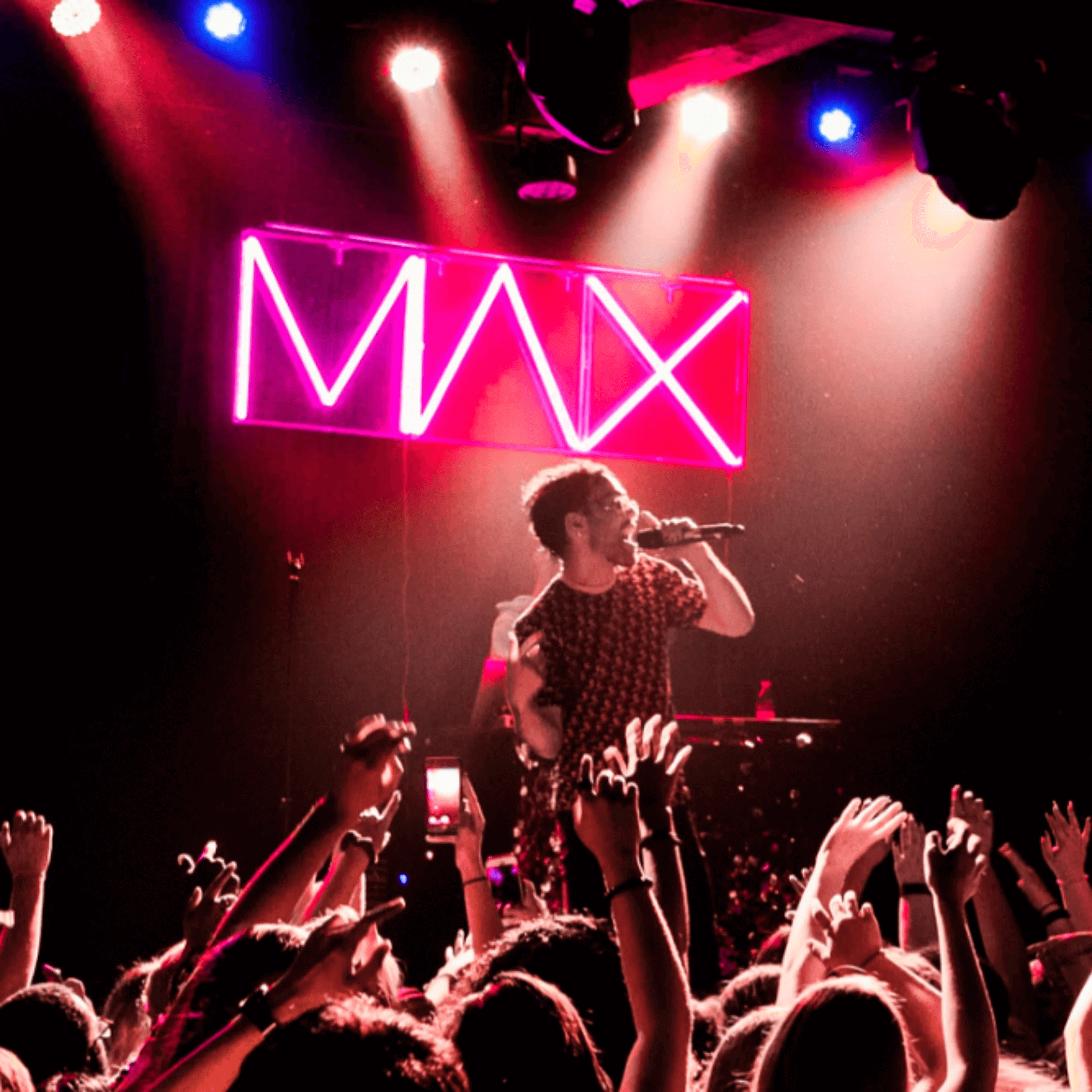 To make your performance stand out, why not consider creating customized neon signs with the performer's name or show title. This simple addition can increase brand recognition while simultaneously creating an eye-catching and visually appealing focal point for the audience.
To further enhance the visual impact of the neon signs, experiment with different colors and fonts to match the theme or mood of your show. For instance, vivid and vibrant colors might befit an energetic dance show, whereas softer and muted tones might be ideal for a romantic and dramatic theatrical performance.
Elegant salon or spa neon sign ideas
A well-positioned neon sign can not only elevate the overall aesthetic of your business but also serve to entice new customers and instill an air of sophistication. It stands to reason that when it comes to selecting the ideal neon sign design for your salon or spa, an assortment of alternatives is at your disposal.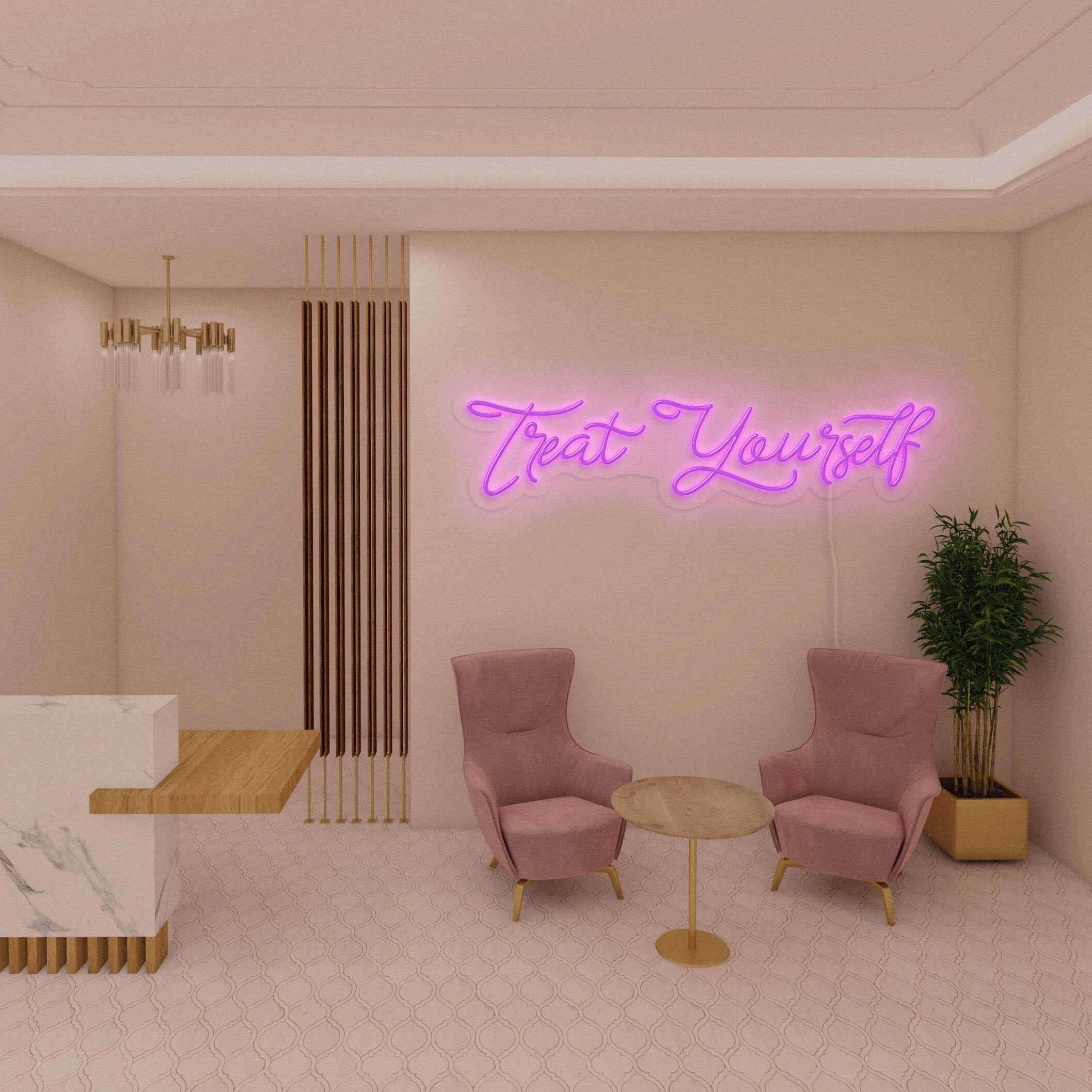 Popular selections include messages that promote relaxation and self-care, such as "relax," "pamper yourself," or "spa day." Furthermore, you have the option of customizing your preferred design with a wide-ranging array of colors and fonts that complement your establishment's branding and aesthetic.
As you embark upon selecting a suitable color and style for your neon sign, it is imperative that you contemplate the overall look and feel of your salon or spa. You may find that softer, more muted hues like pastels or whites are optimal for fostering a tranquil and restful atmosphere, while brighter, bolder colors like pinks or blues are better suited for generating an energetic and lively vibe.
The choice of font style can also have a marked impact, with cursive or script fonts contributing an air of elegance, and block letters conferring a more contemporary and streamlined appearance. By ascertaining the perfect combination of design, color, and font for your neon sign, you can cultivate a luxurious and inviting ambiance that will draw in and retain your clientele.
Highlighting brand values with neon sign ideas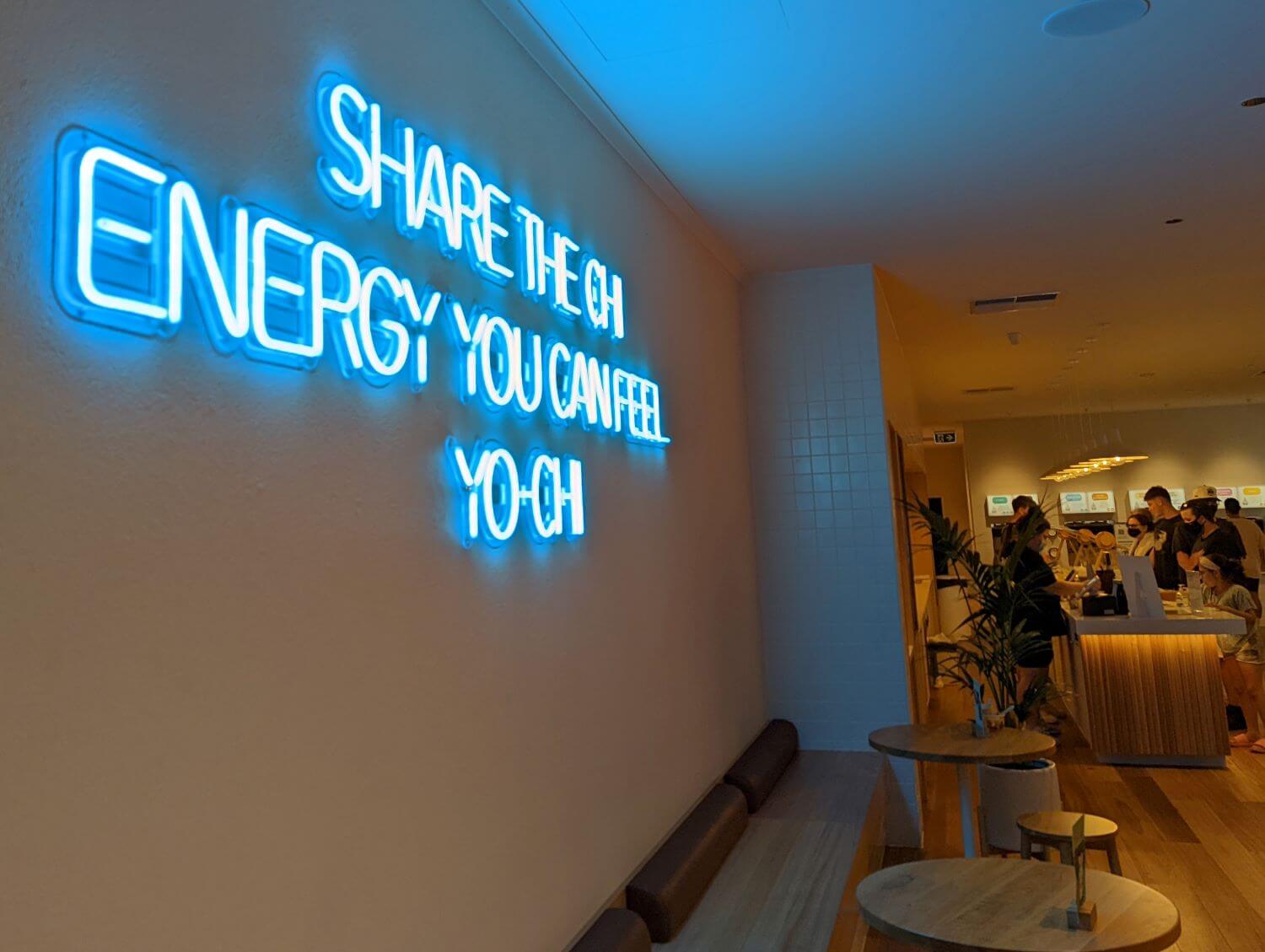 Numerous companies have achieved success through the use of neon signs to highlight their brand values. For instance, Airbnb's "belong anywhere" neon sign reinforces their dedication to inclusivity and providing guests with a feeling of homeliness, no matter their location in the world. Other companies have employed neon signs to showcase values such as creativity, innovation, and sustainability.
When crafting a neon sign to showcase brand values, it is imperative to contemplate the message that you intend to convey and choose a design that accurately reflects your brand's identity. **Suppose your brand centers on sustainability; in that case, you may want to incorporate green hues and a design that incorporates elements of nature. **
Additionally, it is essential to select a font that is both easily legible and complements your brand's existing typography. In essence, a neon sign designed with care can effectively communicate a brand's values and help it stand out in a saturated marketplace.
Sports team and athlete neon sign ideas
A sports team and athlete neon sign can be an efficacious element in the arsenal of boosting morale and engagement of the team and its supporters. With a well-designed neon sign, not only can the team's brand be promoted, but also a jovial and exhilarating ambiance can be created, contributing to increased fan involvement.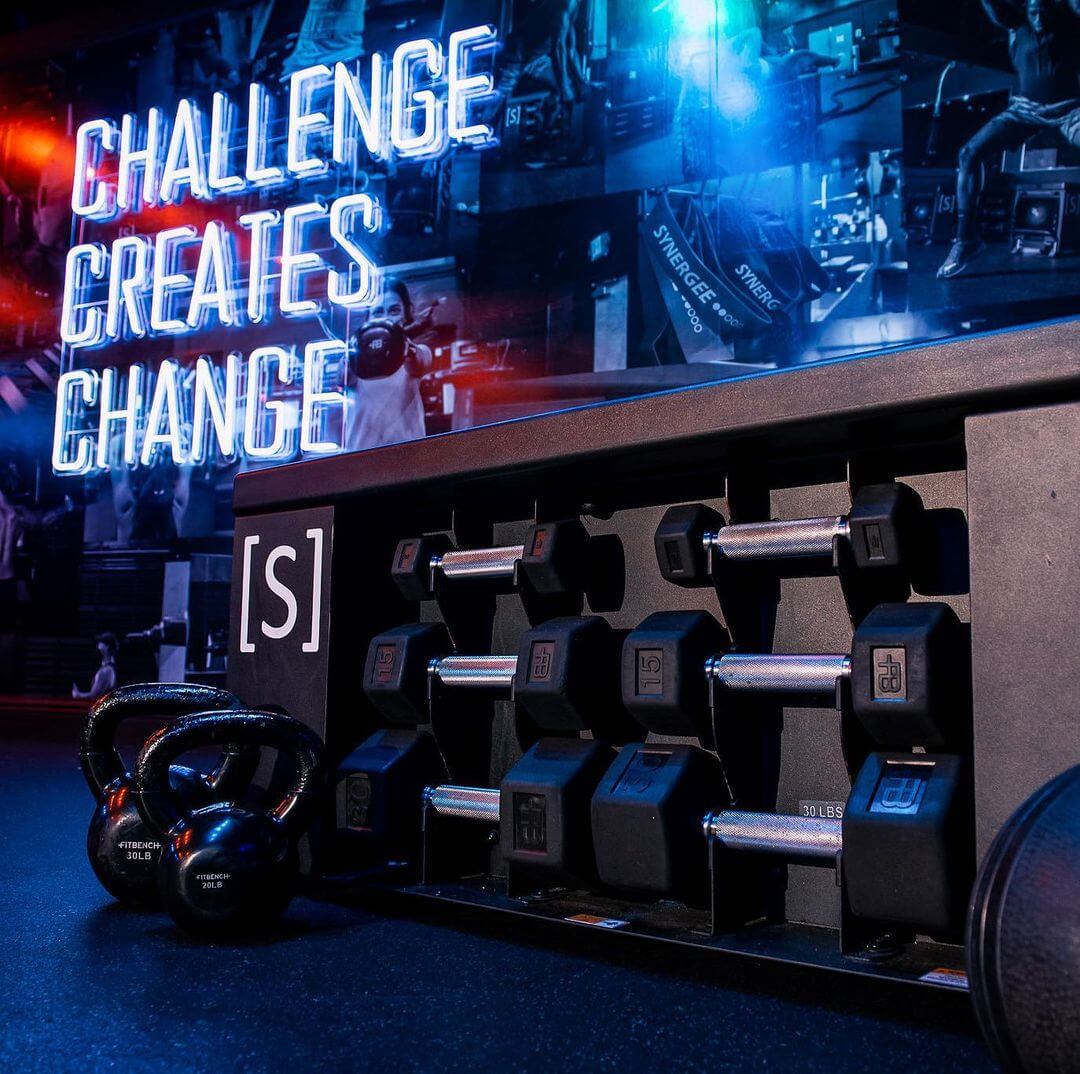 There are various neon sign designs for sports teams and athletes that have been popularized, such as featuring the team's logo or mascot, motivational phrases, and even the names of renowned players. The placement of these neon signs can vary from the locker room and training room to the entrance of the stadium.
Designing a neon sign for the team necessitates consideration of the brand and the message it wishes to communicate. The sign should embody the team's values and persona while simultaneously being visually captivating. The color scheme and font style of the neon sign should also be carefully selected to harmonize with the team's logo and overall aesthetic.
Glamorous neon sign ideas for your hotel or event space
Vivid and multicolored neon signs have the power to make an assertive declaration and grab the attention of patrons, enticing them in and creating a reminiscence to hold on to. When it comes to picking the fitting neon sign for your hotel or event space, there are a few pointers to bear in mind.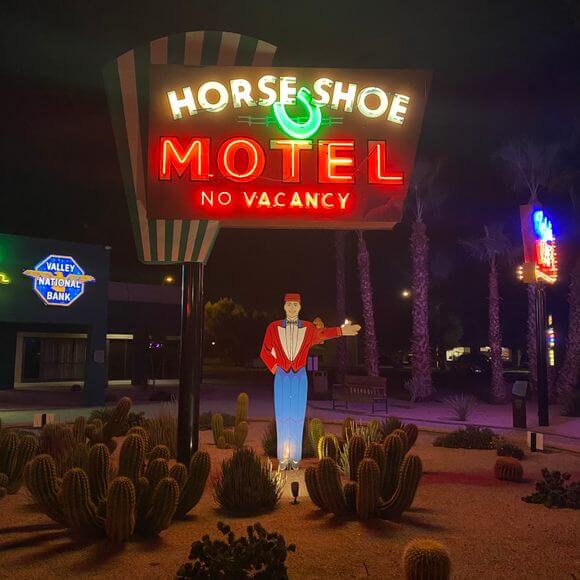 **Take into account the comprehensive décor and color scheme of the space, and handpick a neon sign that corresponds with it. **To exemplify, if your space has an antiquated theme, a vintage-inspired neon sign could fit in harmoniously.
**Some prevalent neon sign blueprints for hotels and event spaces incorporate "welcome" signs, generating a warm and welcoming ambiance for guests, and "cocktails" signs, which can add a fun and vivacious feel to a bar section. **Many hotels also showcase their logo in neon, which can augment brand recognition and build a remarkable visual factor.
While designing a neon sign for your hotel or event space, it's of the essence to consider how it represents your brand and values. A well-crafted neon sign can transmit your brand's personality and values to guests, whilst also contributing to the inclusive ambiance of the area.
Unique neon sign ideas for your fashion boutique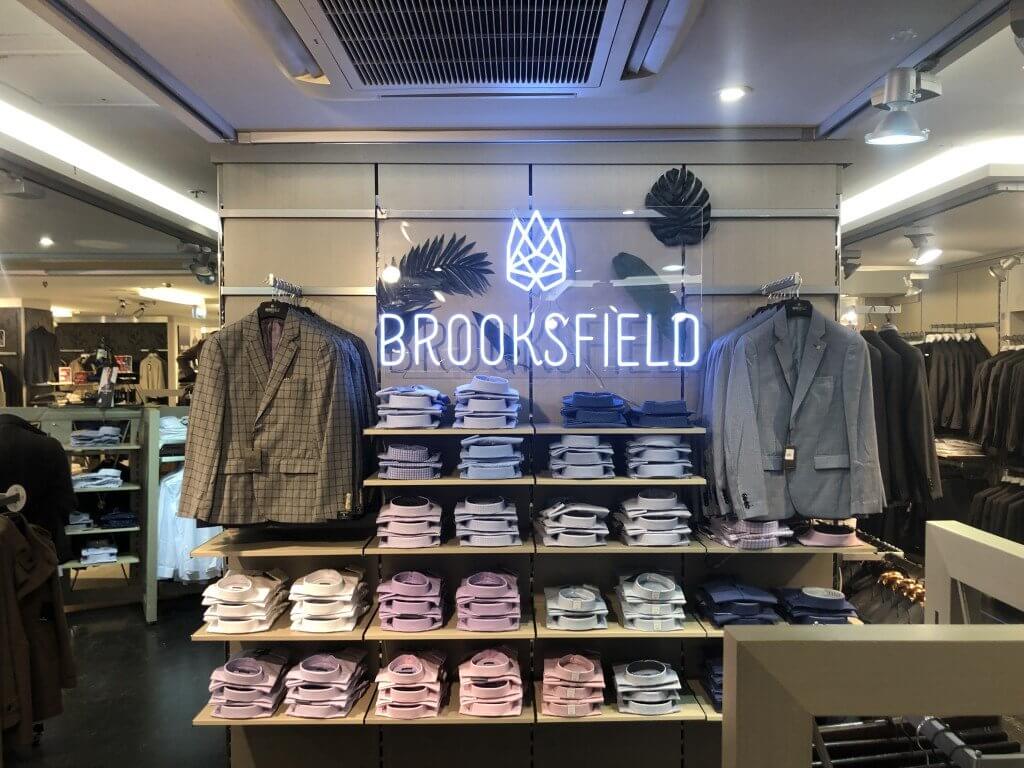 To differentiate your fashion boutique from the masses, a cleverly crafted neon sign can do the trick. You can devise a neon sign that is entertaining and humorous, such as a sign that states "fashionably late." You can also utilize a neon sign to advertise your boutique's social media presence by presenting your Instagram handle. This not only draws in potential customers but also facilitates the establishment of your brand's online presence.
**When drafting a neon sign for your fashion boutique, it's critical to ensure that it truthfully embodies your brand's style and message. **This necessitates the incorporation of components that are unique to your brand, such as specific colors, fonts, or patterns. With the correct design, a neon sign can evolve into a distinct and captivating feature that elevates your fashion boutique's complete aesthetic.
Promotional event neon sign ideas to make your product launch stand out
By deploying neon signs effectively during your product launch event, you can create a long-lasting impression on attendees and amplify your brand's visibility and recognition in the market.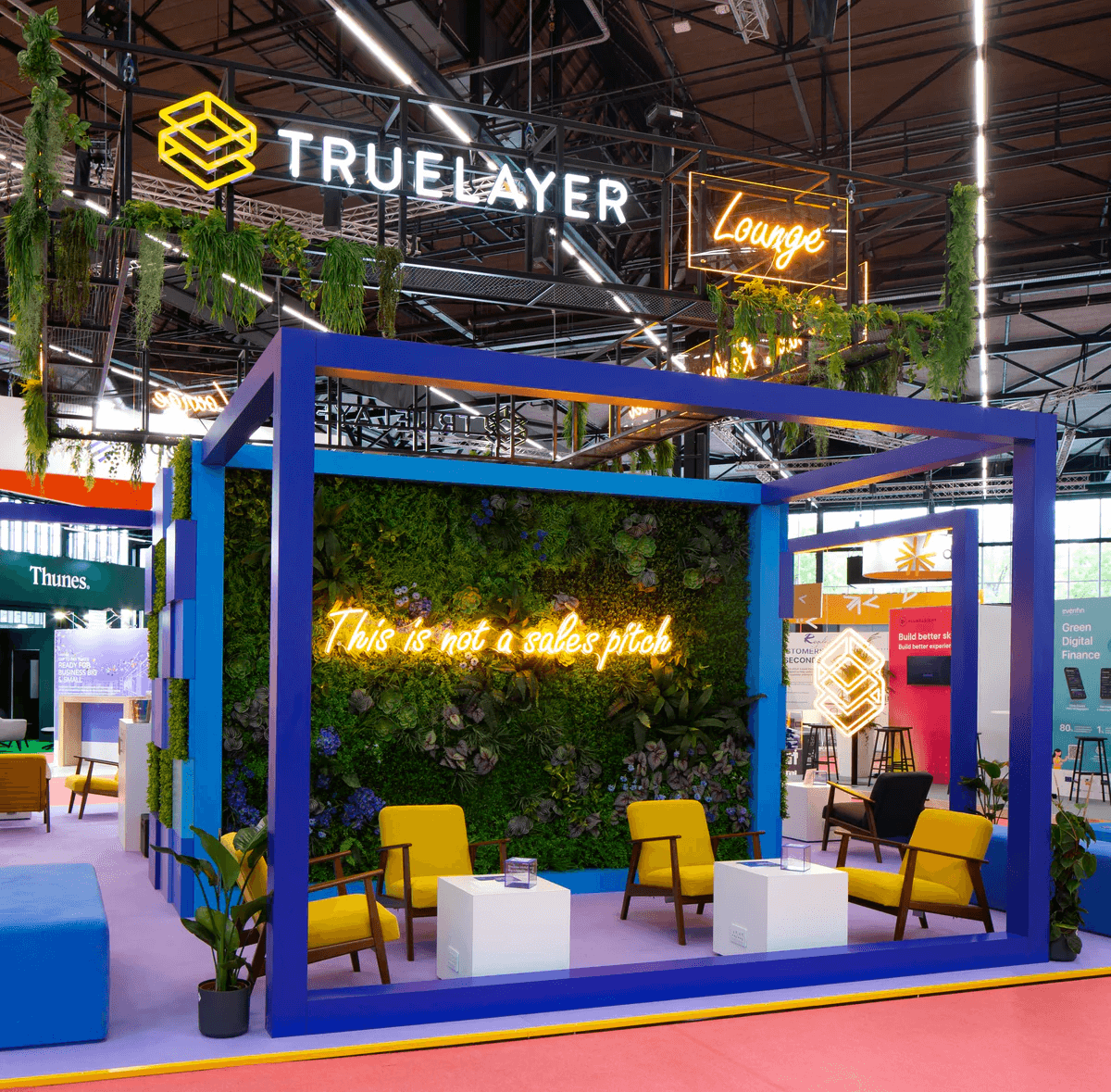 When it comes to designing neon signs that are tailored to your product launch, it is of paramount importance to select a design that is capable of effectively promoting both your brand and product. Such a design may incorporate elements that spotlight your product's name, slogan, or even a sign that prompts attendees to take a picture with it, which they can then share on social media.
**To truly set your neon sign apart and give it a distinctive edge, you may also consider adding special effects, such as animated or flashing lights. **These features are sure to make your neon sign even more captivating, enhancing its ability to attract the attention of potential customers.
The strategic placement of the neon sign within the event space is equally significant. Optimal placement includes a high-traffic area, such as near the entrance, or any location that is naturally eye-catching.
Festive neon sign ideas for your holiday decor
The incorporation of neon signs into your holiday decor is an outstanding way to generate a cozy and jubilant atmosphere. Neon signs provide a distinctive touch that is both captivating and inviting, making them a wonderful addition whether you're decorating your home or business.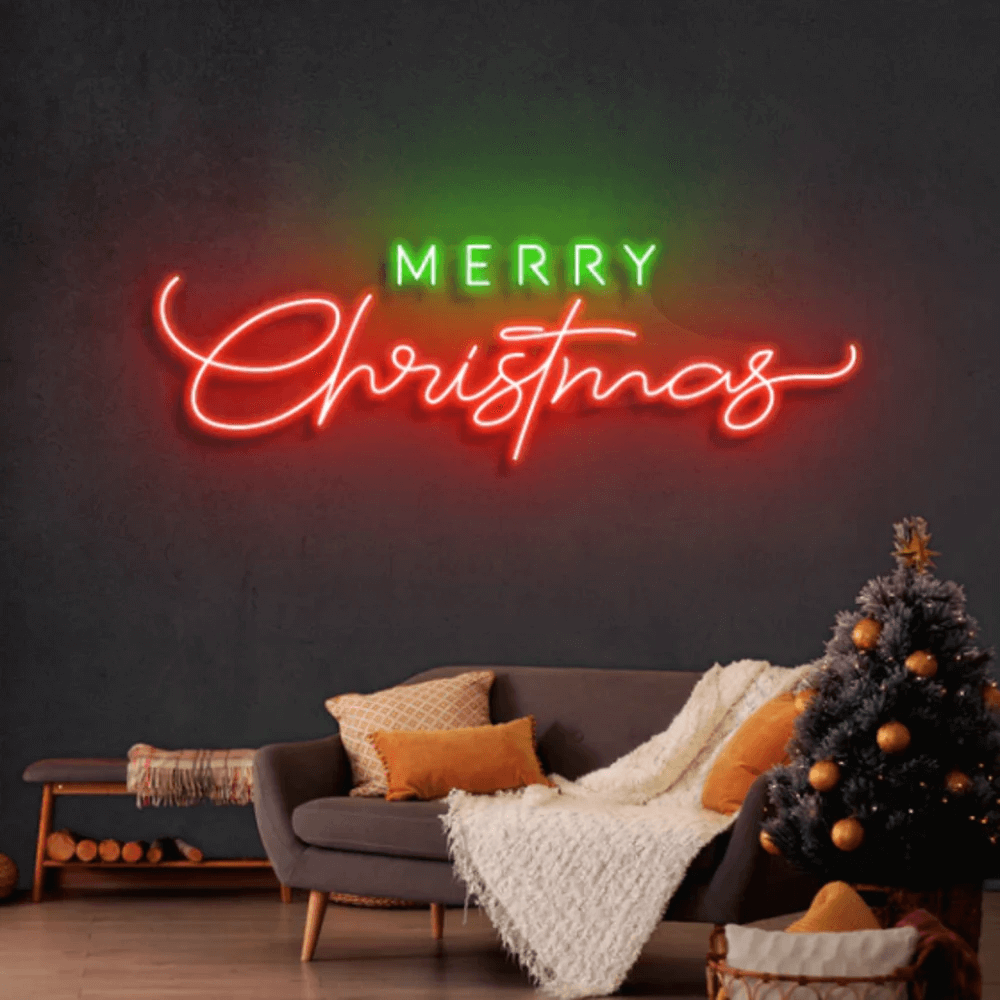 When it comes to holiday-themed neon signs, the possibilities are boundless. **From "happy holidays" to "merry Christmas," there are a plethora of popular designs to choose from. **In addition, there are signs fashioned after a variety of holiday symbols such as Christmas trees and snowflakes. These signs come in various colors, allowing you to select one that complements your holiday decor scheme.
**It's essential to contemplate your overall decor's color scheme and style when selecting a neon sign for your holiday decor. **You'll want to choose a sign that integrates well with your other decorations while contributing to the festive atmosphere you're trying to create. Additionally, you should consider the placement of the sign and how it fits into your overall decor scheme.
**Aside from contributing to a festive atmosphere, neon signs can also be utilized as an unforgettable and distinctive backdrop for holiday photos. **Whether it's for your holiday party's photo booth or a fun and festive photo-op at home, neon signs can help create a one-of-a-kind experience.
Your favorite song lyrics as neon sign ideas
Neon signs that feature song lyrics have been gaining popularity as an unconventional and individualized form of decoration in recent years. The compelling reason behind the fascination with song lyric neon signs is the distinct emotional value and significance they hold for the owner.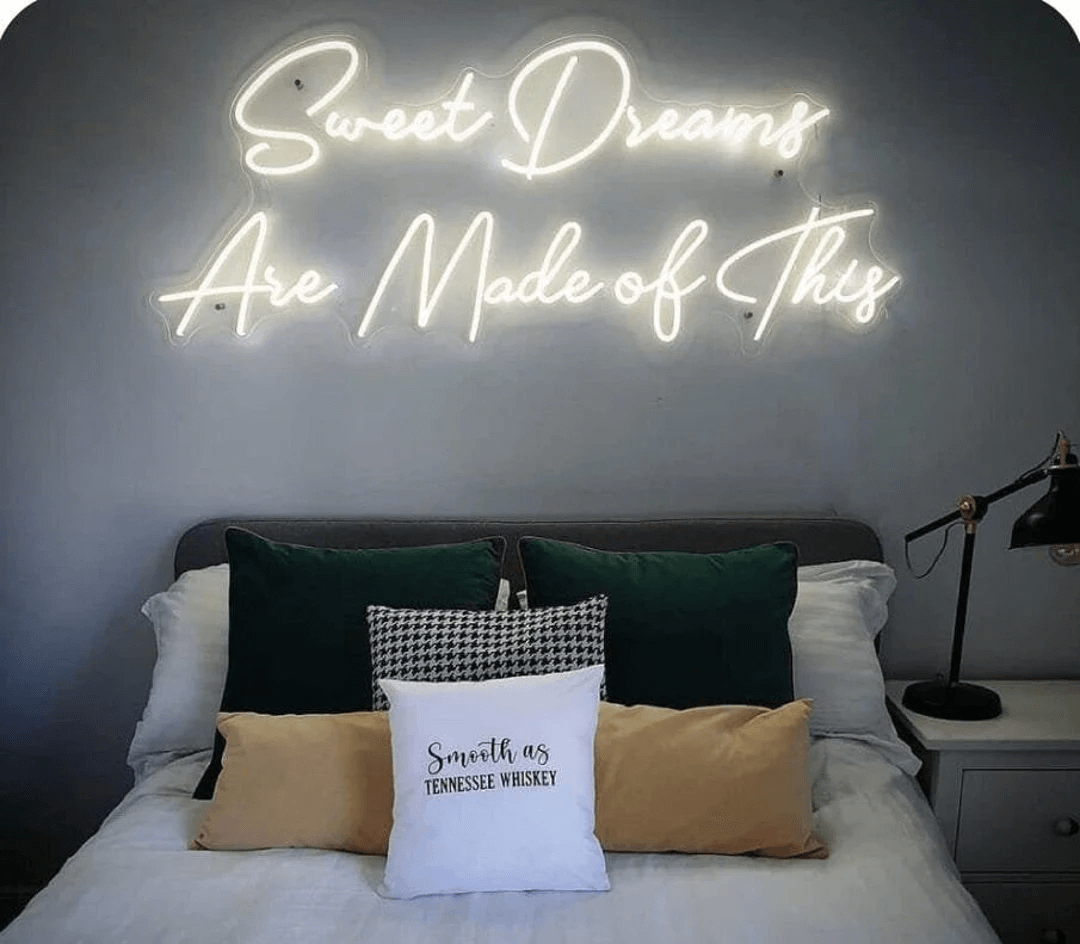 Numerous well-known songs possess lyrics that lend themselves well to the neon sign medium. For instance, "Sweet Dreams are Made of This" by the Eurythmics,** "Don't Stop Believin"** by Journey, and "Girls Just Want to Have Fun" by Cyndi Lauper are a few examples of song lyrics that have been successfully transformed into highly sought-after neon signs.
**However, selecting the ideal song lyrics to translate into neon form requires thoughtful consideration of several factors, including the length and complexity of the lyrics. **Lengthier lyrics may necessitate a more extensive sign or smaller font, while intricate lyrics may prove challenging to decipher in neon form. Additionally, the underlying message and tone of the song lyrics play a pivotal role in establishing the mood and atmosphere of the neon sign.
How to allow your clients to make their neon sign ideas a reality?
Are you a neon sign store owner? Transforming your clients' neon sign ideas into a tangible reality has never been easier.
By employing our Neon Sign Customizer software, you can create and tailor your own neon sign design, either by modifying existing templates or by starting from scratch. Our customization software offers a simple and highly effective solution to bring your neon sign vision to life.
Amongst the various benefits of utilizing our customization software, one of the most notable advantages is its user-friendly nature. You do not require any prior design knowledge or technical expertise to produce a striking neon sign design. Our software is straightforward and user-friendly, enabling anyone to utilize it with ease.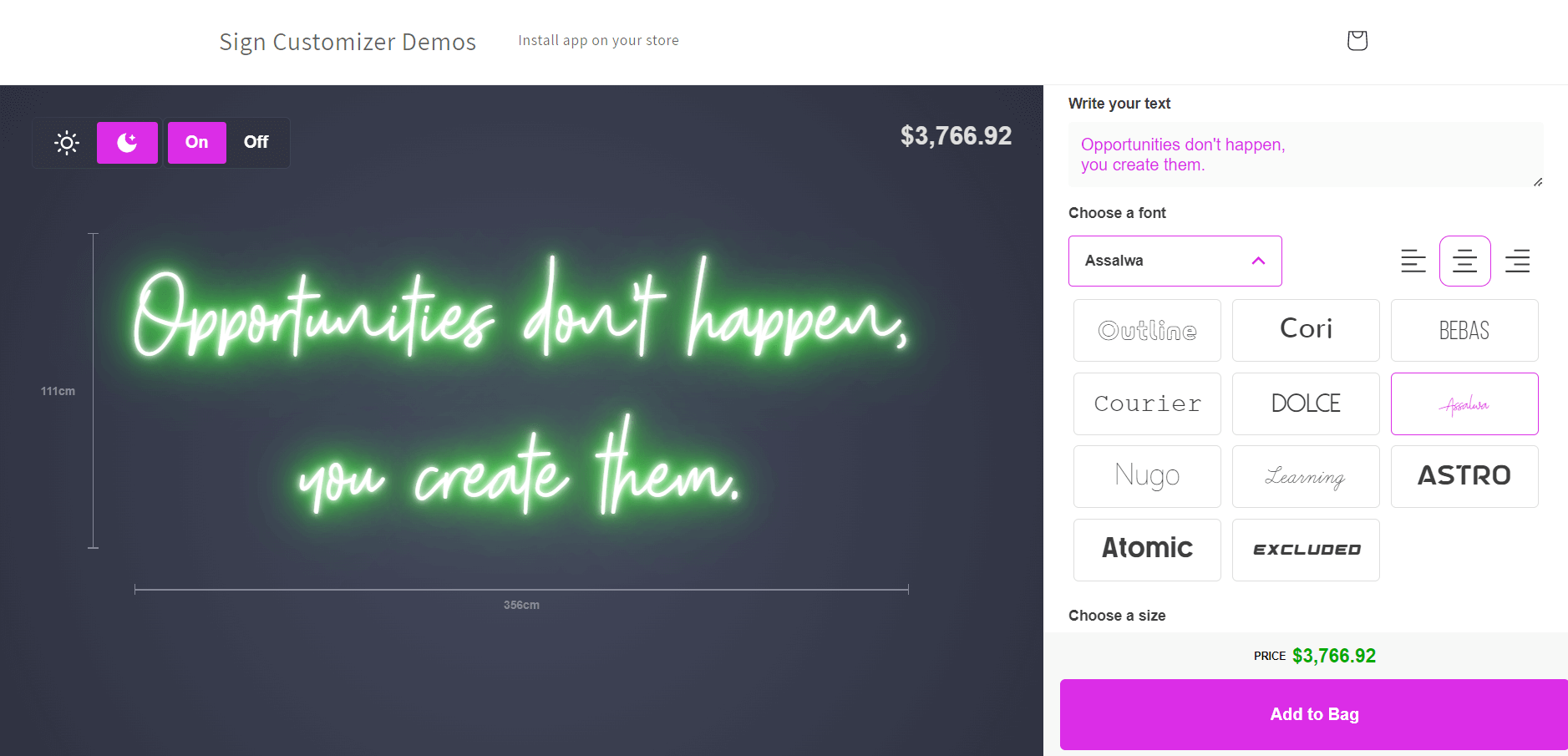 Design your own neon sign. Try our app!
Moreover, our software includes a wide range of colors, fonts, and graphics, offering limitless opportunities to create a unique neon sign design that impeccably embodies your distinct style and personality.
In addition to its user-friendliness, our customization software also incorporates a real-time preview feature. This feature ensures that you receive precisely what you have envisioned before finalizing your order.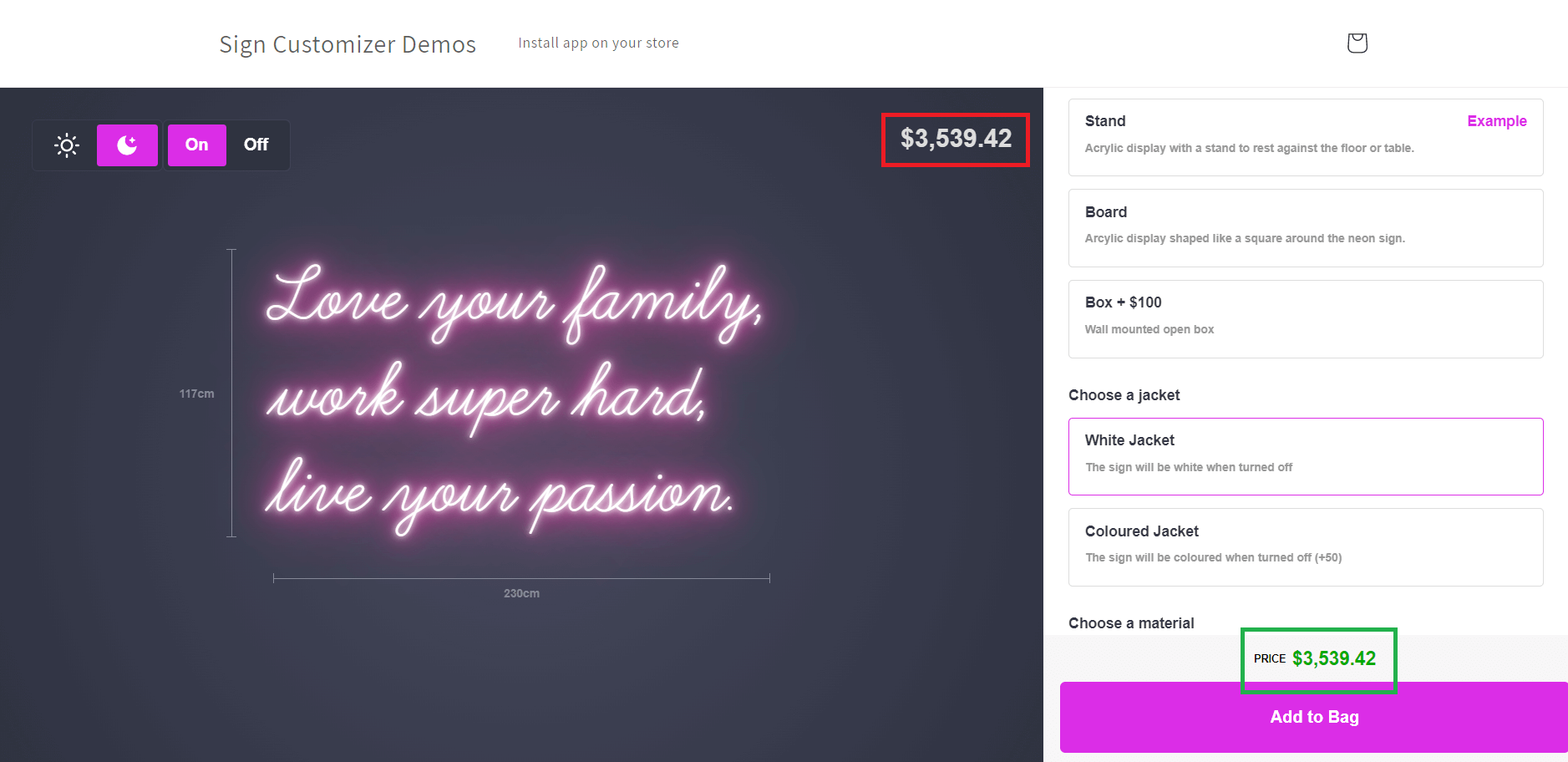 Conclusion
Through this post, we hope to have highlighted the versatility and flexibility of neon signs as a means of expression and branding. Regardless of the context, neon signs offer an opportunity for creativity and customization. **We encourage readers to explore their own custom neon sign ideas and incorporate them into their personal or professional spaces. **Whether it's a favorite song lyric or a brand slogan, a neon sign can add a unique touch and make a lasting impression on those who see it.